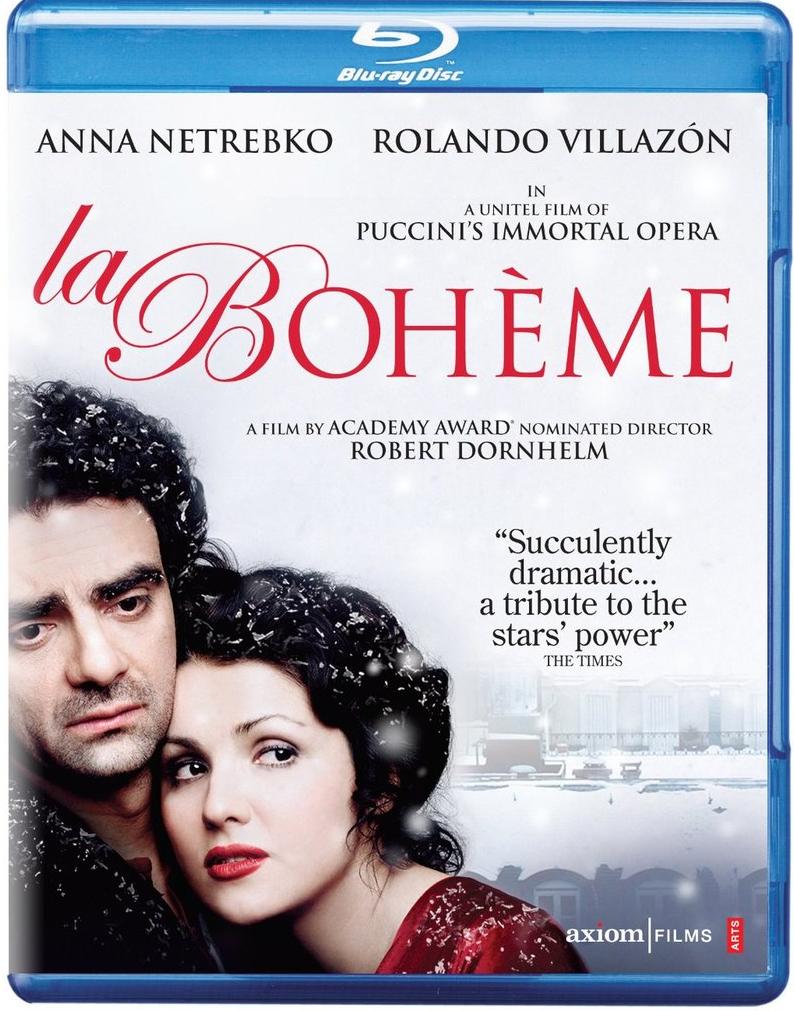 Giacomo Puccini La Bohème opera to libretto by Giuseppe Giacosa and Luigi Illica. This is a motion picture version of the opera directed by Robert Dornhelm. Stars Anna Netrebko (Mimì), Rolando Villazón (Rodolfo), Nicole Cabell (Musetta), George von Bergen [voice by Boaz Daniel] (Marcello), Adrian Eröd [voice by Stéphane Degout] (Schaunard) , and Vitaly Kovalyou (Colline). Bertrand de Billy conducts the Baravian Radio Symphony Orchestra, the Chorus of the Bayerischer Rundfunk, and the Children's Chorus of the Staatstheatre am Gärtnerplatz, Munich. Released in 2009, disc has 5.1 dts-HD Master Audio sound. An HDVD of this movie was released in the U.S. by Kultur, which may be restricted to Region A. It appears this Axiom version is region free. Grade: A-
In this mini-review we discuss the merits of the Dornhelm movie as compared to the Opus Arte HDVD of La Bohème directed by Giancarlo del Monaco at Theatro Real in Madrid. Earlier we praised del Monaco for "movie-slick" directing with "fine acting touches." And now we have a real movie made with the full armada of technology devoted to photographing persons who are acting to match pre-recorded music. (That's right, Netrebko, Villazón, Cabell, and Kovalyov were not recorded at the photographic sessions. Von Bergen and Eröd are not singers at all and were selected for their looks).
The movie is about 7 minutes shorter than the live opera. Though fast-paced, the movie in some ways tells the story more clearly than the stage version. For example, in Act 1 the movie uses clever editing to show that Mini has been listening to the antics of her 4 artistic neighbours and has a passion to meet them. Knowing that one of the men is alone, Mimi blows out her candle just before she knocks on door of the garret. On the stage, the speed at which Mimi and Rodolfo fall in love seems like, well, an opera-story convention. But Dornhelm uses his expanded set and the sexuality of movie-picture-style close-ups to tell a realistic story of love-starved people ready for action. And so under Dornhelm, Mimi and Rodolfo make love (brief semi-nude scene) in Mimi's room while Colline gets his hair cut. All this we can only guess at in the opera house, but it's licensed, I think, by the libretto. I liked the movie flashback that dramatizes Schaunard's dense story of the English Lord, the maid, and the murder of the parrot. We also think the Act 2 street scenes and Musetta's grand appearance at Cafe Momus is better told in the movie than in the stage versions I've seen. So I give the advantage to Dornhelm over del Monaco in the first two acts.
In Act 3, the advantage shifts to del Monaco. Both directors are confined by the libretto to one piece of a street. Dornhelm decided to stick closely to traditional designs, so he puts Act 3 in the customary snowscape. Del Monaco is more "advanced" in his Act 3. Even though it's winter, he gives up the snow to make room for his carousing men, streetwalkers, bag lady, and vomiting drunk. Amazingly, he bathes the entire set with warm peach-orange-pallet colors---adding irony to his milieu of economic, psychological, and moral destitution. Thus del Monaco wrings more out of Act 3 than Dornhelm gets with his blizzard.
Finally, we were puzzled by Dornhelm's Act 4 death scene. We are used to Mimi dying cold and in the dark (as depicted by del Monaco). But Dornhelm's Act 4 garret looks almost as bright and cheerful as a TV situation comedy. The windows are open, and it must be spring (when Mimi and Rodolfo had once agreed to part). Netrebko arrives with bare arms and low-cut blouse, and Dornhelm muffs it by putting her on a bed with no blanket for her torso. (We know we should not have used "muff" in the previous sentence.) At age 38, Netrebko was pleasingly plump (and in fact pregnant). If she's going to die from the ravages of consumption, they better cover her up and just work on making her look pale. For us, all the pathos of the death scene gets rinsed out in the cheerful light. This includes our pet favourite, Colline's overcoat aria. Dornhelm's Vitaly Kovalyov probably sings Colline's aria better than del Monaco's Filipe Bou. But Kovalyou looks like a sales executive rather than a destitute philosopher. Bou, gaunt and spare, scratches out his song and proves with his demeanour and body language that acting is just as much at home on the stage as before the movie camera.
We rate the casts in these two shows about equal. (We do object to Machado's obesity---if he could only control what goes into his mouth as well as he controls what comes out of it. Nor would we recommend that Villazón take off his shirt again for a camera.) Movie technology gives the director great flexibility telling any story. But this opera is a brutally simple device aimed at showing us one thing: the death of a poor, sick girl in an empty, dark, cold room. Here the stage director wins out with his single pale light. So if we could only have one La Bohème, we would pick the del Monaco version, mostly for his tear-inducing Act 4.
Looking a bit at the bigger picture, We don't care if the show in our home theater starts on the opera stage or in a Hollywood studio. Nor do we care if the singing is dubbed or if none of the actors sings a note themselves. We just want the illusion of what Puccini had in mind. Dornhelm and his backers made this movie hoping to sell tickets to movie houses. We wish them every success in this. But we do suggest that Axiom made a big mistake in having subtitles only in English (which are, by the way, good). This HDVD could be popular all over the world for some time to come. It deserves to have subtitles in more languages.