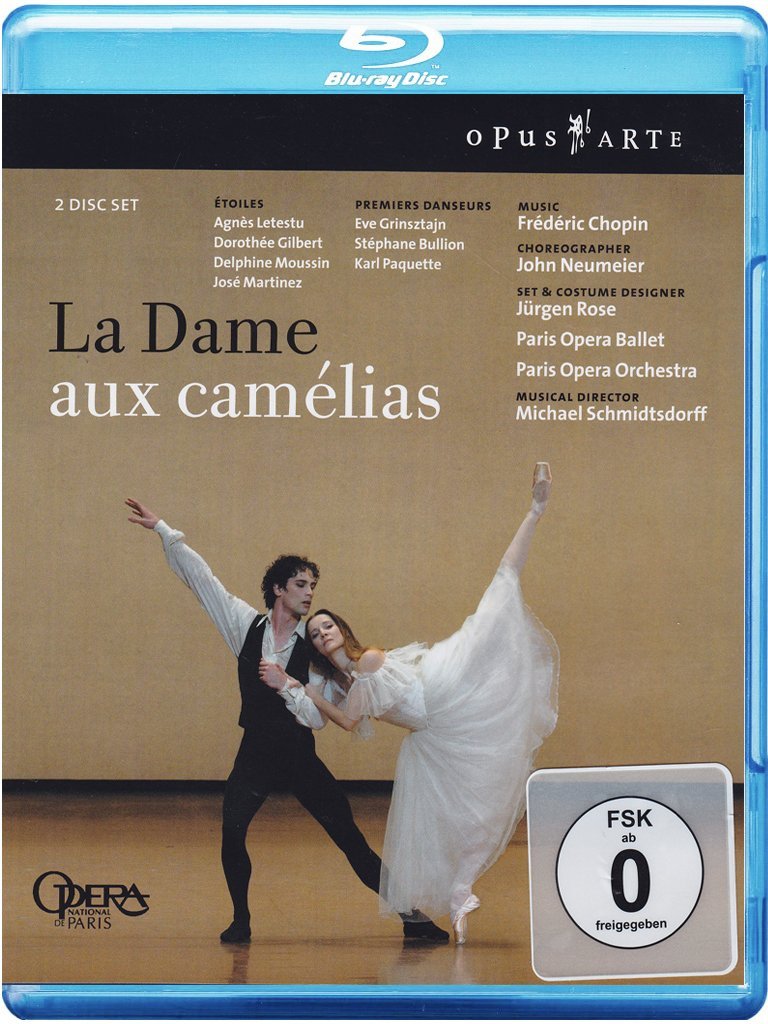 [I wrote the original of this review in 2013, and this has always been one of my favorite ballets discs. I just rewatched this with a Ballet/Dance Wonk Worksheet to get a better idea about the video content provided by Thomas Grimm. Neumeyer has 4 very fine HDVDs out, all of which I admire. Grimm did the video on all of them, so I'm confident Grimm is producing his video exactly as Neumeyer wants it. Now I suggest you read the 2013 review, which holds up OK, although I see now that's it's a pretty simple treatment of a sophisticated work of art. Then I cover in [] at the end of this review how surprised I was by what the Wonk Worksheet reveals.]
La Dame aux camélias ballet. Choreography by John Neumeier. Music by Frédéric Chopin. Produced 2008 by Paris Opera Ballet at Palais Garnier. Stars Agnès Letestu, Stéphane Bulllion, Machaël Denard, Dorothée Gilbert, Delphine Moussin, José Martinez, Eve Grinsztajn, Karl Paquette, Laurent Novis, Béatrice Martel, and Simon Valastro. Michael Schmidtsdorff conducts The Paris Opera Orchestra. Solo pianists are Emmanuel Strosser and Frédéric Vaysse-Knitter. Set and costume design by Jürgen Rose; lighting by Rolf Warter; directed for TV by Thomas Grimm. Disc also has a good Opus Arte synopsis and a valuable documentary by Reiner E. Moritz and Stéphane Loison. The show and documentary last more than 4 hours on 2 discs. Released 2009, show has 5.0 PCM sound. Grade: A+
La Dame aux camélias was created by John Neumeier in 1978. It is based on the often-told story of Marguerite Gautier and Armand Duval from the novel The Lady of Camellias by Alexandre Dumas (the younger). You will want to play the Opus Arte synopsis early because this is not just a retelling of the Verdi opera La Traviata. Neumeier drew primarily on the the novel, and Neumeier's libretto uses flashbacks that force you to pay attention. Neumeier added a "ballet inside the ballet" based on the also often-told story of Manon Lescaut. To help you keep the stories straight, the Manon elements are color-coded in dream-like icy blue, gray, and silver tones.
Neumeier drafted Chopin for his music (two piano soloists and orchestra)---all of which is completely familiar and yet startlingly fresh and poignant in this context. The completely new element is Neumeier's choreography. As my real estate broker would say: it's "updated soft contemporary romantic" dancing that is always in exquisite good taste (even the slightly naughty parts). Neumeier also requires acting ability from all his dancers because he is artistically and psychologically on the opposite end of the spectrum from abstract ballet. Every gesture and facial expression is important. Sets are kept simple; but this is the only ballet I've seen that had me drooling over gorgeous costumes.
Agnès Letestu is magisterial in the title role for her dancing and mesmerizing acting. Stéphane Bullion, a Premier danseur at the time, is the perfect choice to play the younger man to cougar Margarite. He's beautiful to see and see dance plus he's strong enough to gracefully handle Letestu (who probably weighs as much as he) through a multitude of complicated lifts, carries, and crashes. The other 9 dancers credited above all turn in brilliant character portrayals. It's unfair to 8 to comment on only 1. But I especially liked Michaël Denard as Armand's father, who comes to chastise Marguerite, but leaves a melted man.
Meet (to your right) Marguerite Gautier (Agnès Letestu) and her friend Prudence Duvernoy (Dorothée Gilbert), both courtesans:
The ladies are at the theater to see a ballet (within the ballet) based on the story of Manon Lescaut. Manon was a pretty teen who ran away rather than enter a Catholic boarding school and who, after a short, glamorous flowering, died young and hard. Armand Duval (Stéphane Bulllion) attends the show because he admires Marguerite and hopes to meet her:
The sad death of Manon foreshadows the early death of Marguerite, who has consumption, the same illness that killed Chopin. (All the music of Chopin is haunted by the specter of consumption, something that might not occur to you until you hear it as the music for this ballet.) Here we meet Manon (Delphine Moussin) and her lover Des Grieux (José Martinez). This ghostly pair will pop up from time to time throughout our ballet representing the thoughts or dreams of our protagonists:
Marguerite meets Armand and invites him to visit her later that evening with friends. At home, she is shocked by her visage in the mirror. That cough is turning into the dread consumption:
Marguerite contemplates whether her fate will be like that of Manon. Seeing Letestu recline on this bench is by itself worth the price of a Blu-ray disc:
But the party never ends with Marguerite. Armand gets access to her chambers and declares his feelings. Marguerite is hit with the question, "Could there be a true love for me?" This begins one of several ferocious pas de deux scenes which probably left Bullion needing several days of recovery:
Marguerite decides to give true love a try. But she will continue her present life; Armand just doesn't have to pay:
The ballet has a number of lavish scenes for the corps, but these are hard to capture in screen shots. My favorite of these is the summer party:
I already mentioned the impressive costumes. Here Dorothée Gilbert wears a simple summer dress for an afternoon romp. It's about impossible to catch the details of the elegant dresses in a single frame, but their beauty is easy to appreciate when the dancers are in motion:
Arman's father, Monsieur Duval (Machaël Denard) visits to ask Marguerite to break off her affair with his son. Monsieur Duval fears Marguerite's reputation may damage Arman. If she feels true love for Armand, she should set him free and let him find a proper girl he can marry. Marguerite begs Monsieur Duval to relent and withdraw his request:
If she breaks with Arman, Marguerite will have nothing left but her patrons. She knows that as she grows more ill, they will all abandon her:
Monsieur Duval does not relent. Marguerite promises to drop Armand, and to keep secret her meeting with Monsieur Duval. On parting Duval kisses her hand, which he refused to do when he arrived:
Marguerite quits seeing Armand. She continues her life and relationship with her wealthiest patron, Le Duc (Laurent Novis). Her illness is getting worse. Early in Act 3, Marguerite encounters Armand on the Champs-Elysée by chance. Now that she is going to die soon in any event, she contemplates breaking her promise to Monsieur Duval and asking Armand to take care of her:
Her approach to Armand leads immediately to another stupendous pas de deux that is half passion and half frustration. It's called the "black pas de deux" because of her black mink coat and black velvet dress, but for most of the scene, Marguerite is down to bare essentials:
At the end of the black pas de deux, Armand, spent, goes to sleep. Marguerite thinks again about the meaning of "true love," and she slips away from Armand before he wakes. She will honor her promise to Monsieur Duval even if she has to die alone. We next see Marguerite make entrance at the grand ball which she attends with Le Duc (Marguerite is at the rear center in a white dress with black decorations):
Armand is also at the ball waiting for Marguerite. He still doesn't know that she dropped him at his father's request. Drunk, he crudely abuses Marguerite and gives her cash for her services. For honoring her promise, Marguerite is repaid with a crushing public humiliation:
Neumeier's ending has no reconciliation or relief. Marguerite does write a diary which amounts to a long letter to Armand:
By the time Armand reads the diary, Marguerite has followed Manon into the purple light:
In the bonus documentary, Brigitte Lefèvre (Director of Dance at the Paris Opera Ballet) predicts this ballet will become the Giselle of the 21st Century. I'll say this recording of La Dame aux camélias gets better every time I see it, and it easily deserves an A+.
[Now look at the La Dame Wonk Worksheet, which runs two pages. I was astonished to count 1,370 video clips in this shoot, a record number. That works out to a pace of 5.5 seconds per clip. This is the fastest pace for any ballet HDVD for which I've run the numbers. See Orpheus and Eurydike with a pace of 77 seconds per clip, the Bolshoi Sleeping Beauty that clocks in 22 seconds per clip, and the McGregor Triple Bill with paces running from 10 to 17 seconds per clip.
I know well that I usually have little or no conscious awareness of the number of video clips in a video that I find interesting. But I believe that a video with fewer and longer clips is better than a video with more and shorter clips. Each time the brain starts receiving informations from a new clip, energy is spent as the brain asks and answers, "Oh damn, what's happening out there now?" So I have a general bias in favor of videos with fewer clips or a slower "pace." When I watch video of symphony concerts, I have good evidence that the pace should be at least 11 seconds per clip, which is twice as long than this La Dame aux camélias.
I should also point out that many ballet lovers demand that a ballet video should show the entire body of the dancers as much a possible. That's why the dance Wonk Worksheet divides the clips into 5 categories: 2 with whole bodies of the dancers and 3 other categories of part-body shots. In subject La Dame, only 11% of the film shows the whole stage, and only 52% show whole bodies. About half of the shots are made much closer to the action that any audience member will ever get. In contrast, the other ballets titles mentioned above have almost 90% whole body shots.
So is something wrong with La Dame? Well, maybe not. All the other ballets I've scored with the Worksheet were either abstract (McGregor) or simple-story-line dance spectaculars. La Dame is based on a actual young woman who became famous through a book and and an opera. Her story involves a number of interesting characters living in a real environment where they make choices with pyschological and moral dimensions to consider.
So Neumeier presents us with a (more or less) modern drama. His main medium is, of course, dance. But he also requires his characters to act and to get across messages that we normally associate with literature, stage plays, and movies---except his actors can't speak! And Neumeier oftens freshens things up with new subplots, changes to the inherited story, flashbacks and the like. This is a huge challenge to the dancers and the live audience. To Neumeier, telling the story is Job 1 and ballet pagentry is not so important. (He doesn't even have a full Petipa-style white corps in his compact Hamburg company.)
When Gerard Mortier got Neumeier to do La Dame with the Paris Opera Ballet, it was a wonderful opportunity for ballet lovers in Paris to see a splendid live show. How many lucky spectators got to see this? Not many. But I think Neumeier and Grimm were determined to take advantage of this production to make the best video they could on the big Garnier stage with state-of-the-art gear in 2008. They knew the 1080i cameras could not make whole-stage (or even half-stage) shots with excellent resolution. So they went all in for part-stage-whole-body shots alternating with torso and exteme-close-up views that would let them tell their story well. And the closer you get, the shorter the clips must be.
So I conclude this A+ video was done as well as possible in 2008. But the pace is too fast to give this a flare award. Let's hope Neumeier get another opportunity to shoot this in 4K, which should let him tell the story well with fewer and longer-range clips. Good luck on finding another Marguerite who can dance and act as well as Letestu.]