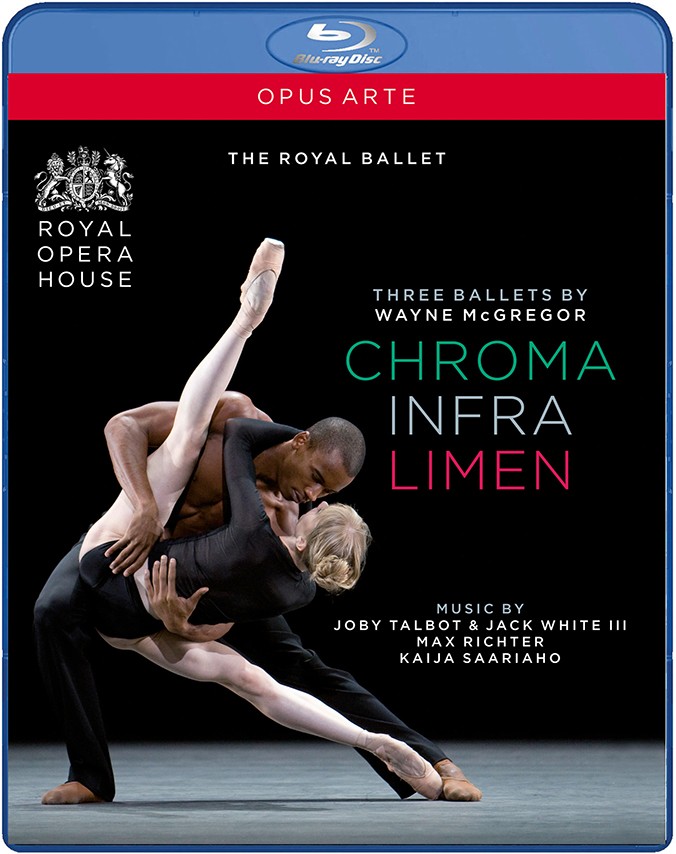 [Special note dated October 5, 2016. This title came out in 2011. It's perhaps the most outstanding modern, abstract dance HDVD that we have. It's always been on our Ballet/Dance Hit Parade with a grade of A+. Now I'm updating this review (and moving it to the top of the journal). Most of the review comments are the same as before. But I add to the discussion of each segment new information provided by Dance Wonk Worksheets that I just finished. At the end of the review, I also give this title our new flare award.]
In the flare McGregor Triple Bill we have three modern ballets choreographed by Wayne McGregor at the Royal Opera Ballet:
Chroma. Music by Joby Talbot and Jack White III, arranged by Talbot and orchestrated by Christopher Austin. Stars Federico Bonelli, Ricardo Cervera, Mara Galeazzi, Sarah Lamb, Steven McRae, Laura Morera, Ludovic Ondiviela, Tamara Rojo, Eric Underwood, Jonathan Watkins, and Edward Watson. Daniel Capps conducts the Orchestra of the Royal Opera House (Peter Schulmeister Associate Concert Master). Sets by John Pawson; costumes by Moritz Junge; lighting by Lucy Carter.
Infra. Music by Max Richter. Stars Leanne Benjamin, Ricardo Cervera, Yuhui Choe, Lauren Cuthbertson, Mara Galeazzi, Melissa Hamilton, Ryoichi Hirano, Paul Kay, Marianela Nuñez, Eric Underwood, Jonathan Watkins, and Edward Watson. Music played by Max Richter Quintet with violins Lousia Fuller, Natalia Bonner, viola Nick Barr, and cellos Helen Rathbone and Chris Worsey. Solo piano by Robert Clark. Sets by Julian Opie; costumes by Moritz Junge; lighting by Lucy Carter; sound design by Chris Ekers.
Limen. Music is Notes on Light by Kaija Saariaho. Stars Leanne Benjamin, Yuhui Choe, Tristan Dyer, Mara Galeazzi, Melissa Hamilton, Paul Kay, Sarah Lamb, Brian Maloney, Steven McRae, Marianela Nuñez, Ludovic Ondiviela, Leticia Stock, Akane Takada, Eric Underwood, and Edward Watson. Barry Wordsworth conducts the Orchestra of the Royal Opera House (Concert Master Peter Manning). Solo cello by Anssi Karttunen. Sets and video designs by Tatsuo Miyajima; costumes by Moritz Junge; lighting by Lucy Carter.
Chroma and Limen directed for TV by Margaret Williams; Infra directed for TV by Jonathan Haswell. Released 2011, disc has 5.1 dts-HD Master Audio sound. Grade: A+
In 2011, the two best ballet companies in the world were the Paris Opera Ballet and the Royal Ballet (alphabetical order). In both houses, many stars for romantic and classical productions also were doing cutting-edge modern ballet/dance. The three works featured here from the Royal Ballet are 95% abstract and 5% political---something that puts many folks to sleep. But McGregor got off to a good start with 3 very different and intensely interesting modern music compositions.
First some screenshots from Chroma. There are 11 dancers in this. Often most or all of them are in action. McGregor calls for each of the dancers to be doing different things, so there are only a few scenes calling for screenshots of the whole corps dancing in unison. Here's the opening shot with all but one of the dancers on stage with their backs to us (left to right Steven McRae, Tamara Rojo, Eric Underwood, Laura Morera, Edward Watson, and Mara Galeazzi in profile):
Watson and Galeazzi, the stars of the Mayerling ballet:
Steven McRae and Tamara Rojo:
Richard Cervera and Sarah Lamb:
The title might suggest that this work somehow deals with colors. But the design is about as colorful as, say, a desert at dawn. McGregor also gives the dancers unisex costumes which serve no purpose other than keep the performance legal under the decency laws.
One might say that Chroma displays a range of new "motion colors" that McGregor brings to modern dance. To exotic and fast jazz music, we see an almost uncountable display of fast and extreme steps, moves, and formations. It's exciting and erotic: no philosophers needed to interpret.
But as is revealed by the Chroma Dance Wonk Worksheet, TV director Margaret Williams takes mercy on us in her video with a conservative array of shots and angles and a slowed-down pace. Although the focus here is most often on individual dancers and small groups, 80% of the Williams clips show the full bodies of all the dancers in view. The 20% of "no feet" or "torso" shots are all brief. I conclude that pace for most of the video is a languorous 17+ seconds per clip! I think that Williams decided to buffer the audience from the frantic speed of the music and action by enforcing a video pace what would be make it easier to watch this than if she had filmed with 3-seconds clips. So even though the dance action is hyperactive, aggressive, and even full of risk, the aura of the video is magisterial. Well, maybe I'm overstating this. But I think for sure that this video is good evidence for the proposition that fast music and dance does not demand a fast-paced video. Usually the reverse would be the better choice.
Infra invites spectators to consider meanings beneath the surface of dance. Due to references in the design and the intensity of 6 pas de deux scenes performed simultaneously, the viewer may think that Infra is a celebration of modern sophistication. But suddenly one woman in this society, played by Lauren Cuthbertson, breaks down in grief amidst the crowd, and few show any concern for her. (Cuthbertson may be the best actress in the Royal Ballet; see her as Alice in Alice's Adventures in Wonderland.)
Eric Underwood and Melissa Hamilton in Infra:
This is the scene on the cover of the McGregor Triple Bill keepcase:
Ricardo Cervera and Lauren Cuthbertson:
In Infra, the music is slow, lyrical, and psychologically penetrating. Throughout the piece, electronically generated figures of strolling people cross the field-of-view high above the stage in an kind of hypnotic parade. As you can see in the Infra Wonk Worksheet, Haswell commits 77% of his angles to whole body shots. Many of his torso and close-up shots are dramatic views of Lauren Cuthbertson demonstrating loneliness and despair. So you might think that Haswell would slow down the video pace to match the music and the action. But, to the contrary, Haswell steps up the pace to about 10 seconds a clip, which is considerably faster than the pace used by Williams in Chroma. Perhaps Haswell was concerned that viewers might fall asleep. He stirs things up just enough to keep the top of the paint from drying in the bucket. I'm impressed how the viewer, who is concentrating his attention on the dancing, is not consciously aware of the pace of the film. But the brain working in the background is affected. If the pace is too fast, the brain fatigues. If the pace is too slow, could the brain lose interest and start looking for better things to do like day-dreaming?
Limen is the last of the 3 works. A "limen" is a threshold of a physical or psychological response---probably not a word you use often. Another way to get at the idea of a limen is to think of the crossing of a boundary.
Crossing boundaries would be the idea behind the "Limen Pas de Deux" performed by Eric Underwood, a rich-chocolate-brown black guy and Sarah Lamb, a pale white-chocolate blonde. This LPdD is probably the most memorable modern dance scene yet published in HDVD. In contrast to the neck-threatening speed of much of McGregor's work, the LPdD is about as slow as a dance can be. Any slower and the act would cross the boundary of dance into the realm of performance art or merely posing. (Or maybe McGregor has crossed that line?) When making screen shots, I viewed the LPdD in slow motion, and it was even better at half-speed than in regular cadence. At other times while watching this, I feel I'm viewing a fine-art photograph (think Avedon or Mapplethorp) that manages somehow to move.
I haven't seen this discussed anywhere, but my instinct tells me McGregor wrote the LPdD specifically for Underwood and Lamb. McGregor is able to demonstrate their spiritual resemblance despite the differences between them in race. I wonder if only Underwood and Lamb were allowed to dance this, at least for a while. And now that Underwood and Lamb have their stamp on it, I wonder who else would even try. It's an astonishing piece, and I will include in this report on Limen the longest series of screenshots I've done yet on a single subject---Underwood and Lamb in the LPdD:
The LPdD consists of 7 clips that have an average duration of 32 seconds---a very slow pace. The music and the dance are both ethereal; I think this combination demands a slow video pace. If you were to quicken the video here, you would risk breaking the spell.
There is a lot of other dancing in Limen heading off in various directions. But despite all the variety, you can see from the Limen Wonk Worksheet that 72% of the shots are whole body. The over-all pace is 11 seconds per clip; if you back out the LPdD, the pace drops to below 10 seconds per clip. But even this would be slower than most of the classical music HDVDs we have studied.
Now to sum up the McGregor Triple Bill. McGregor's dance vocabulary is consistently engaging and awesomely beautiful; and, as he says in a bonus, he doesn't repeat himself. PQ and SQ are excellent, especially considering how many dark scenes there are. Dance content remains cutting edge 6 years or so out, and there is gravitas as well as flash in McGregor's work. Video content in the range of 10 to 17 seconds per clip stays well away from the DVDitis that is so rampant in the symphony videos. I've watched this many times, and I wish I could make time to see it again right now! The "A+" grade alone doesn't do this justice---I'll give it our new flare award of special merit and distinction.