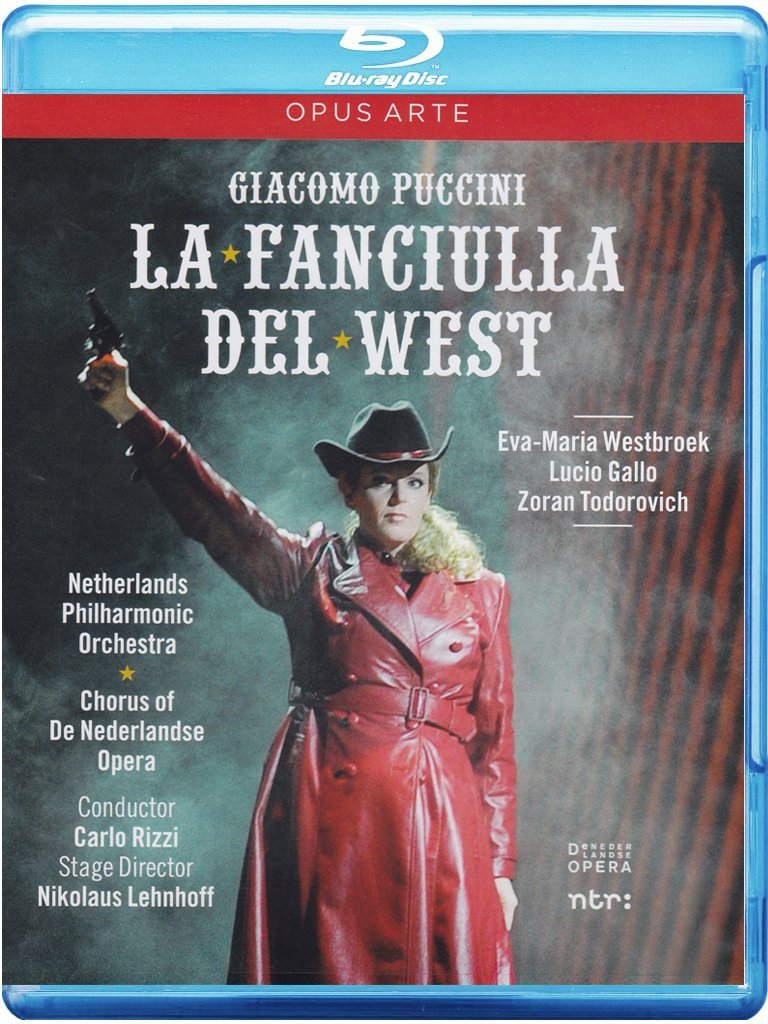 Puccini La Fanciulla del West opera to a libretto by Guelfo Civinini and Carlo Zangarini. Directed 2009 by Nikolaus Lehnhoff at De Nederlandse Opera (Amsterdam Music Theater). Stars Eva-Maria Westbroek (Minnie), Lucio Gallo (Jack Rance), Zoran Todorovich (Dick Johnson), Roman Sadnik (Nick), Diogenes Randes (Ashby), Stephen Gadd (Sonora), Jean-Léon Klostermann (Trin), Leo Geers (Sid), Peter Arink (Bello), Pascal Pittie (Harry), Ruud Fiselier (Joe), Harry Teeuwen (Happy), Patrick Schramm (Larkens), Tijl Faveyts (Billy Jackrabbit), Ellen Rabiner (Wowkle), André Morsch (Jake Wallace), Roger Smeets (José Castro), and Erik Slik (Pony Express Rider). Carlo Rizzi conducts the Netherlands Philharmonic Orchestra (Chorus Master Martin Wright). Set design by Raimund Bauer; costume design by Andrea Schmidt-Futterer; lighting by Duane Schuler; video design by Jonas Gerberding; movement direction by Denni Sayers; casting by Hein Mulders. Directed for TV by Misjel Vermeiren. Released 2010, disc has 5.0 dts-HD Master Audio. Grade: A-
This opera, which tells a story from the California Gold Rush, premiered 1910 at the New York Met. Were the opera a table, it would be called antique. With so much time having passed, let's look a bit more closely at what the world was like when Pucinni decided to write about "the Girl." There have been gold rushes all over the world since ancient times. The California rush lasted from 1848-52. But the most famous of all was the Klondike rush in Canada in 1898-90. So Puccini was writing about recent events. Probably he picked California over the Klondike to locate his story because there were more opera houses in the U.S. than in Canada.
A gold rush creates a caldron of severe physical conditions and dramatic human situations---fertile fields for harvesting stories. But one should be careful about generalizing from things that happen in the spasmodic, brief life of a rush. The California rush bears a similar relationship to the culture of the United States that the 1637 tulip mania bears to the history of Dutch export industries.
Now back to stories. There were lots of camp girls in California, and most of them probably had no greater ambition than to become a madam procuring other girls. But I like to think there was at least one girl in one camp who was smart enough to stay aloof and become a Madonna figure to the prospectors. One girl = one opera. So we disagree with our director Lehnhoff when he describes Fanciulla (in the Director's Note) as something trivial from a trashy novel. We think the libretto and the music demand more respect than that. And on first viewing, we'll admit we were a bit irritated by Lehnhoff's updating with the leather jackets and neckties, automatic pistols, pink bedroom, Wall Street towers, etc. But on further viewing, we decided that Lehnhoff redeemed himself (and his designer) by directing the cast so well in the singing and acting of the score.
Finally we get to the music in Fanciulla. Puccini was trying to get away from the "sugary" style of La Bohème to Butterfly and write something more trenchant and contemporary. He seems to have succeeded since Fanciulla has the reputation of lacking beautiful arias and has been neglected. But we think it's full of melodies for the stars and chorus and deserves to be more popular.
The camera work and PQ on this recording are excellent. The singers, the Netherlands Philharmonic Orchestra, the Choir of the Dutch Opera, and the SQ are all great. Were this title presented in a traditional manner, we would give it an "A." Although we were as Americans not offended and enjoyed all the jokes at our expense, we consider this satire of the American Way of Life to be a minority report. For that reason, we down grade it to "A-."
Sorry, no decent YouTube clip that definitely comes from this disc.