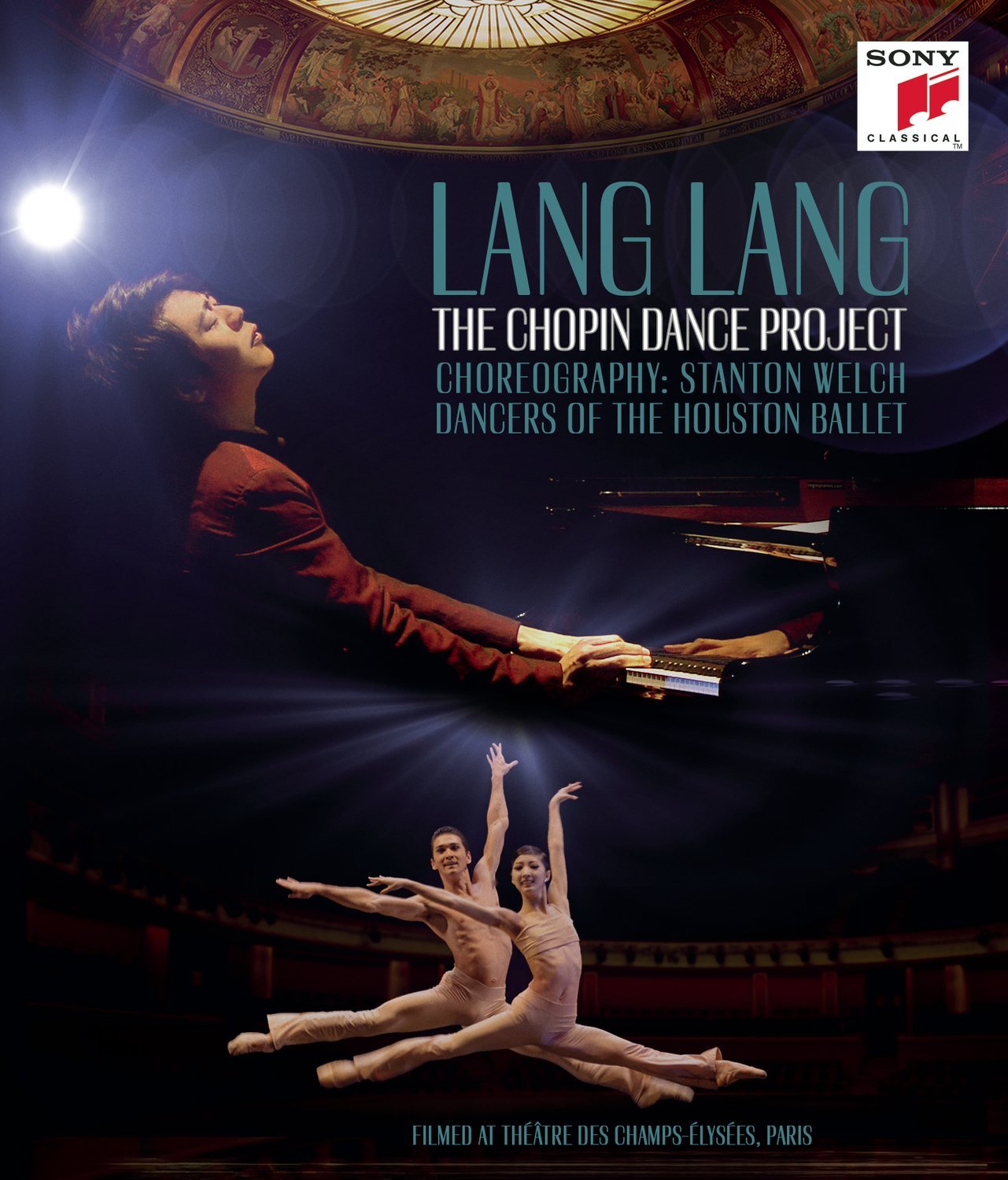 Lang Lang - The Chopin Dance Project, is a piano recital by Lang Lang supporting a ballet performance for 16 dancers of the Houston Ballet, all live. Choreographed by Stanton Welch, the Dance Project was filmed 2013 at the Théâtre des Champs Elysées. Dancers are Ian Casady, Jessica Collado, Derek Dunn, Karina Gonzalez, James Gotesky, Oliver Halkowich, Nozomi Iijima, Melody Mennite, Allison Miller, Jim Nowakowski, Katharine Precourt, Lauren Strongin, Brian Waldrep, Connor Walsh, Joseph Walsh, and Charles-Louis Yoshiyama. Detailed notes in the keepcase booklet list the dancers on stage for each of the following Chopin works:
Ballade No. 1 in G minor op. 23
Etude No. 7 in C-sharp minor op. 25
Ballade No. 2 in F major op. 38
Ballade No. 4 in F minor op. 52
Waltz No. 1 in E-flat major op. 18 "Grande Valse brillante"
Nocturne No. 1 in F major op. 15
Waltz No. 19 in A minor op. posth.
Andante spianato op. 22
Etude No. 3 in E major opus 10 "Tristesse"
Nocturne No. 2 in E-flat major op. 55
Grande Polonaise brillante in E-flat major op. 22
Nocturne in C-sharp minor, op. posth. No. 16
Stage Director was Michelle Elliott; Lighting Designer was Lisa J. Pinkham; Video Director was Olivier Simonnet. Produced by Jean-Stéphane Michaux and François Bertrand. Music recorded with 48kHz/24-bit sound sampling. Released 2015, disc has 5.1 dts-HD Master Audio sound. Grade: A
The 3 ballades here overlap Lang Lang's performance on the recently released HDVD Lang Lang at the Royal Albert Hall, where he played all 4 Chopin ballades. Of the remaining 9 selections, many are probably already on your shelf as they are often performed by many pianists. So if you already have the disc of the Lang Lang show at the Royal Albert Hall, this might not be a compelling buy just for the music.
The subtitle of this disc is "Sons de l'âme" or "Sounds of the Soul." But this is, of course, not just a piano recital. It's a joint production with 12 dancers supported by a single musician. Lang Lang functions in part as soloist and in part as accompanist (even reading some sheet music). When I watch this, I find the dancing to be the true focus of this recording. This is, I think, because the eye is the emperor of the soul and the ear his concubine. And we saw in the HDVD Dragon Songs recording that Lang Lang is quite able to be a "restrained, meticulous, gracious, and loving accompanist."
This is a modest, restrained, and conservative joint effort with mostly quiet music, simple serene costumes, and subdued relaxing lighting. But it also may be a trail-breaking event in the history of fine-art recording. I can't think of any other recording where a famous musician and fine dancers are all on the stage and given equally important roles and credits. Can you think of a precedent for this?
Chopin didn't write danceable music, and the choreography here doesn't follow any rhythm of the music. It's all abstract---two different dream worlds presented for you to enjoy together. Enough words; time for pictures.
The Imp Angel is always happy. The pictures on your PC probably look rather dark. They look fine on a good TV in a room with subdued lighting:
A duet by Katharine Precourt and Brian Waldrep gives us a view of the whole stage:
A near shot of Precourt and Waldrep:
The simplicity of the design lets us focus on the personalities of the dancers. Here's Jessica Callado:
A duet with Callado and Ian Casady:
A serene solo by Joseph Walsh:
Of course, the camera goes back frequently to Lang Lang, who isn't worried about overdoing his expressiveness. Here he anticipates an extremely romantic duet coming up with Lauren Strongin and Conner Walsh:
Strongin and Conner Walsh (Conner looks like but is not related to Joseph Walsh):
Joseph and Conner Walsh lift Nozomi Iijima:
A dramatic finale for Karina Gonzalez, Katharine Precourt, and Allison Miller (not sure who the guys are):
Title clip for the "Tenth Movement":
At the end the dream worlds begin to merge. Lang Lang wants to get up and dance, but then who would play the piano?
There's a strong sense of event here that you see in the curtain calls:
This is a very relaxing and pleasant to wile away 90 minutes. It would be a good date ballet to enjoy with a bottle of wine. This was not recorded at 96kHz/24-bit sampling specs, so I can't give it an A+. It's rather short for a Blu-ray, and there's nothing spectacular here. But it's a good value as Sony is selling this for a fraction of what most of the elite Blu-rays fetch. And pulling this off your shelf would always be better for you than taking another valium. So I'll give this an "A."