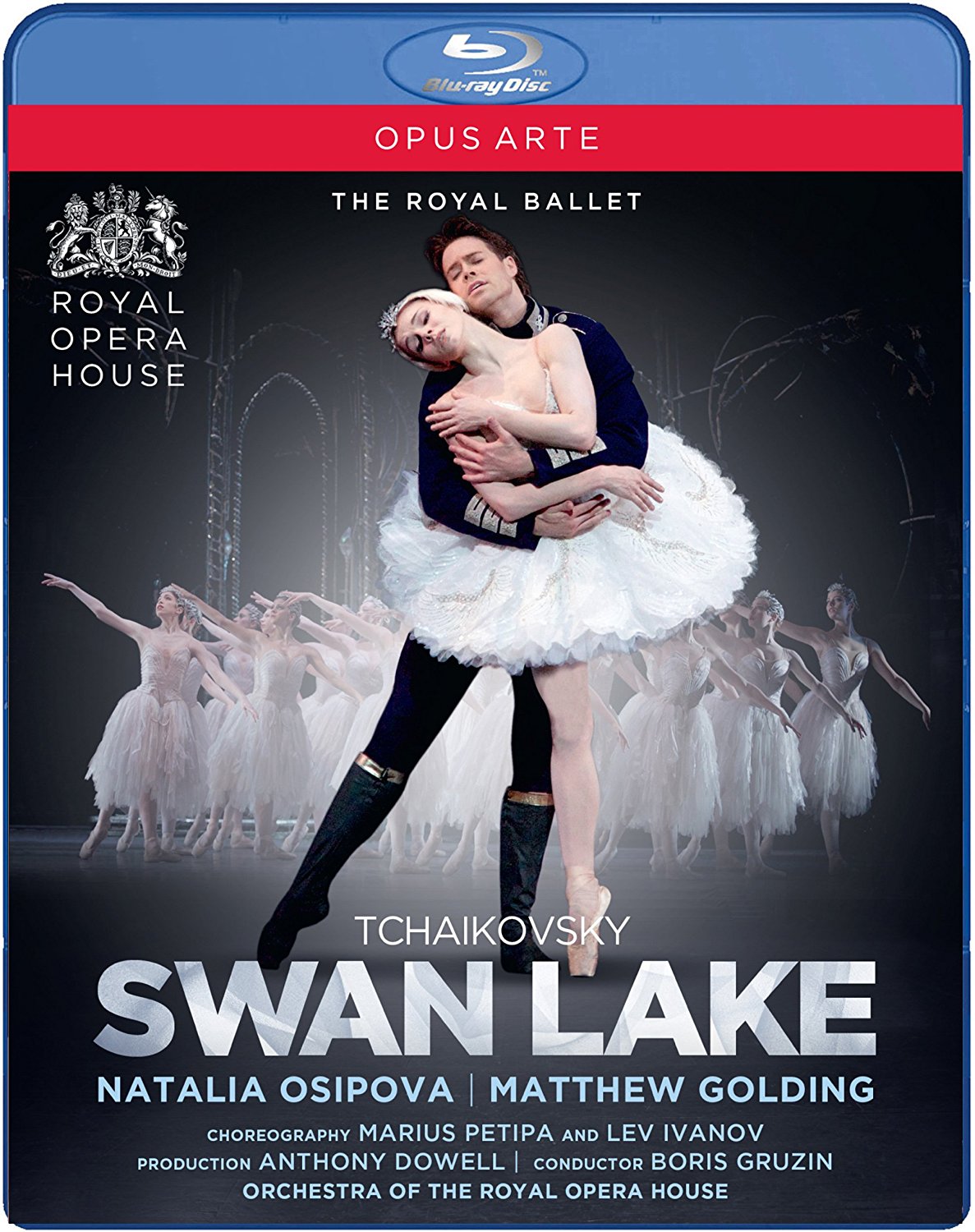 Swan Lake ballet. Music by Tchaikovsky. Book by V. P. Begitchev and Vasily Geltzer. Choreography by Marius Petipa, Lev Ivanov, Frederick Ashton, and David Bintley. Danced 2015 in the Anthony Dowell production at the Royal Opera House. Stars Natalie Osipova (Odette/Odile), Matthew Golding (Prince Siegfried), Gary Avis (Rothbart), Elizabeth McGorian (Queen), Alastair Marriott (Tutor), Ryoichi Hirano (Benno), and Erico Montes (Lord Chamberlain). Other dancers include Francesca Hayward, Yuhui Choe, and Alekander Campbell (Pas de trois); Tara-Brigitte Bhavnani and Nathalie Harrison (Chaperones); Erico Montes (A General); Manon Forssell Pyk and Emily-Rose Holland (Young Girls); Christina Arestis, Fumi Kaneko, Kristen McNally, Beatriz Stix-Brunell, Sander Blommaert, Tristan Dyer, Ryoichi Hirano, Fernando Montaño, Emma Maguire, and Paul Kay (Waltz); Francesca Hayward, Meaghan Grace Hinkis, Emma Maguire, and Yasmine Naghdi (Cygnets); Melissa Hamilton and Itziar Mendizabal (Two Swans); Tara-Brigitte Bhavnani, Olivia Cowley, Nathalie Harrison, Mayara Magri, Yasmine Naghdi, and Beatriz Stix-Brunell (Six Princesses); Christina Arestis, Kristen McNally, Kevin Emerton, and Thomas Whitehead (Spanish Dance); Claire Calvert and Bennet Gartside (Czárdás); Laura Morera and Ricardo Cervera (Neapolitan Dance); Jacqueline Clark, Sian Murphy, Demelza Parish, Lara Turk, Sander Blommaert, Nicol Edmond, Fernando Montaño, and Donald Thom (Mazurka). Boris Gruzin conducts the Orchestra of the Royal Opera House (Concert Master Vasko Vassilev). Designs by Yolanda Sonnabend; lighting by Mark Henderson; production research by Roland John Wiley; staging by Christopher Carr; ballet mistress was Samantha Raine; principal coaching by Alexander Agadzhanov; Benesh notation by Anna Trevien and Gregory Mislin; directed for TV by Ross MacGibbon. Released 2015, disc has 5.0 (package says 4.1) dts-HD Master Audio sound. Grade: B-
This Royal Opera House Anthony Dowell production of Swan Lake harks back to 1987. The 2009 version was published in 2010 by Opus Arte. That HDVD earns a "D" grade from us because of weak stars and obsolete "tourist trap" production values.
Now we have, 6 years later, an attempt by the ROH to get back in the game with at least a decent Swan Lake video. Have they succeeded? To answer that question, I'll compare the new 2015 show ("2015 SL") with the one from 2009 ("2009 SL). So let me suggest that you first read our review of the ROH 2009 SL video.
Our harshest criticism of the 2006 SL was the Yolanda Sonnabend Farbregé-inspired designs for the sets, which appeared to me to be hopelessly dated and shopworn. The ROH kept using all of these sets during the last six years as part of their cash flow strategy. So now these sets are even more dilapidated and ugly than before, as you can see in the first six screenshots (compare them to the similar shots in the 2006 SL video). We open in the first shot with the "party set." On the floor is a maypole which is erected later but actually not used as it should be with an interweaving of the ribbons:
Below is a close-up of the fence, that has turned black from tarnish or wear. The gate is even more beat-up than before. (Also seen here is Alexander Campbell in the Pas de Trois.)
The lakeside set remains the ugliest thing I can remember seeing on a stage. At least now we can see the villain a bit better. (From left to right we have Matthew Golding as Siegfried, Natalia Osipova as Odette, and Gary Avis as the "Evil Spirit"):
Here we see the same throne images as before with the same Elizabeth McGorian as Queen:
Here's the familiar Götterdämmerung of kitsch at the end of the party:
And below is the same weird apotheosis set. I must be missing something. Can anyone explain to me what we see here hanging between the swans and the love boat?
I also jumped on the obsolete and shopworn costumes worn by the dancers in 2006. Well, at least the ROH bought a new tutu for Osipova. Marianela Nuñez in 2006 had a similar tutu, but with some years of service behind it. I did an A to B tutu comparison. Then I realized that the video resolution attained by Ross MacGibbon in 2015 throughout the whole piece is better than the resolution he had in 2006. This, among many benefits, makes the 2015 tutu look prettier than the one Nuñez wore:
Oh, dear! The female corps is still dressed in the same plastic-garbage-bag-looking dresses they have always had. I have to be careful what I say. Earlier, I accused the costume department of making the black dresses with a painter's spray gun. I admit I don't really know if they did that. Or maybe that's OK when you are making costumes that will be seen by a live audience sitting some distance away from the dancers. All I should say is this: if you're going to sell Blu-ray discs of a classical ballet, you better not use costumes that appear to have been made by graffiti vandals:
More costumes that look spray-painted:
The lighting in the 2006 SL was pretty bad. It's somewhat better in 2015. But here's a shot (34 swans) with a dark back row and dark spots on the left and right edges:
Now lets turn our attention to the stars. Marianela Nuñez and Thiago Soares, both wonderful dancers with many remarkable credits, were slightly miscast in 2006. To get back into the SL game, the house recruited Osipova and Golding, who are listed now as regular principals of the ballet company. Osipova is superb. The next four shots give you some idea about her special technique and flexibility. Her huge lifts with Golding are distinctly better than what Nuñez and Soares could do:
Osipova can also act and project emotion with her face as well as with her body. I think Samantha Raine and Alexander Agadzhanov must share credit for stressing mime action and providing astute personal directing that was missing in 2006. Below, for example, Odette explains to her charges how the young and inexperienced Prince Siegfried has been tricked into betraying them:
And next is a marvellous forgiveness scene by Osipova. I checked and saw that Nuñez went through the motions the same as Osipova. The difference is that Nuñez just, well, goes through motions; Osipova convinces you that she is really living through what you see:
As you can see below, Golding is a great match for Osipova in dancing and acting. At this point I'll note that Ross MacGibbon, after 6 years of contemplation, has come up with better video content than what we see in the 2006 SL. With better resolution available, MacGibbon gives up more full-stage and long-range shots than before. He also contribute new angles and brilliant new close-up shots like this one of Golding:
H'm. The great ballerina seems to have yellow teeth! The HD camera sees everything:
The ROB white corps dances here at about the same level as 6 years ago. They are not bad, but also not at the level of the Paris Opera Ballet and maybe others who try harder. I already praised Ross MacGibbon for improved his video technique. But he still can't risk putting cameras in the balconies to shoot down on the female corps because this would probably expose too many errors. So we mostly see the corps from low angles that tend to cover-up flaws. The corps in Act V looks especially good as you can see in last screenshots:
The ROH Orchestra has played the Tchaikovsky Swan Lake score for more times than Viagra has little blue pills. But being recorded gets the juices going. I also think the sound recording folks at the ROH did a terrific job. This HDVD has maybe the best Swan Lake music that we have. I also think Ross MacGibbon got new cameras during the last 6 years and probably has done all that state-of-the-art can do with the light he had available in the opera house. So now to my grade. The great lead stars, improved personal direction, and excellent video and sound recordings will justify a big jump up from the "D" I gave to the 2006 show. But the weak sets and tired costumes still keep this title from being competitive with the strong competition. The ROH needs to have a bonfire and start all over again with fresh designs. And they need to put special emphasis on drilling the female corps to the point that home theater audience can see what they really look like with cameras posted in the balcony. If you are keenly interested in Osipova, buy this title. Otherwise, consult our other SL reviews before making a decision. Grade: "B-."
Here's a trailer, which has not been very popular on YouTube. This may not be exactly what you see on the disc, but it's the same show: