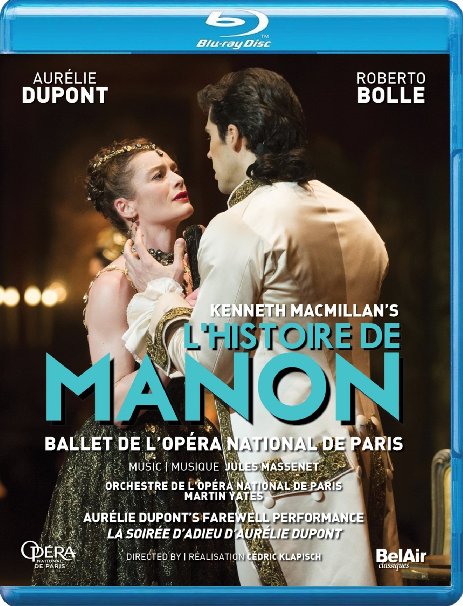 Kenneth MacMillan's L'Histoire de Manon ballet performed May 2015 at the Paris Opera Ballet - Garnier Palace. Music consists of excerpts from the works Jules Massenet arranged and orchestrated by Martin Yates. Choreography and stage directions of Kenneth MacMillan as interpreted by Karl Burnett and Gary Harris with rehearsal director Patricia Ruanne. Stars Aurélie Dupont (Manon Lescaut), Roberto Bolle (Le Chevalier Des Grieux), Stéphane Bullion (Lescaut), Alice Renavand (La maîtresse (mistress) de Lescaut), Benjamin Pech (Monsieur Guillot de Morfontaine), Karl Paquette (Le Geôlier (jailor)), and Viviane Descoutures (Madame). Martin Yates directs the Orchestra of the Paris Opera Ballet. Set and costume designs by Nicholas Georgiadis; lighting by John B. Read. Co-directed for TV by Cédric Klapisch and Miguel Octave. Released 2016, disc has 5.1 dts-HD Master Audio sound. Grade: A-
We now have 3 Manon titles in HDVD. The earliest HDVD released was the Massenet Manon opera. Then came the Puccini Manon Lescaut opera. Now we consider MacMillan's ballet version. It has yet a different name (L'Histoire de Manon) to distinguish it from the Massenet opera for legal reasons. Another curious fact is that even though the ballet is set to Massenet music, not one note of the Manon opera music is used. The ballet music is a pastiche of Massenet tunes from some 26 compositions other than the opera.
Both Manon operas have light-hearted and didactic elements and are considered comedies even though the girl ends up dead in both. But MacMillan, famous for including violent action and raw sexual themes in his work, had a darker view of Manon. With MacMillan, every apple in the barrel is rotten. And the Paris Opera direction team reinforces MacMillan's view by keeping this set in pre-revolutionary France with an entire civilisation suffering from terminal decay.
Our first screenshot shows the courtyard at a provincial inn where stage coaches stop for passengers. Every degree of wealth is seen from rat catcher to aristocrat. On the left seated and dressed in white is Lescaut (Stéphane Bullion), a soldier who is part cop, part gang leader, and all pimp. The woman dancing is Lescaut's mistress (Alice Renavand) whom I'll call "Missy." She is try to entice interest from the aristocrat Monsieur Guillot de Morfontaine (Benjamin Pech) seated on the right dressed in red:
Next below is a close-up of Lescaut and Missy. He shows affection to her here, but much of the time he capriciously humiliates her:
Four prostitutes prance for Guillot while beggars prance behind the ladies:
Lescaut is at the wayside inn waiting for his sister, Manon (Aurélie Dupont), next seen below. Manon is 16. (This is Dupont's last performance after a career of 32 years dancing at the Paris Opera ballet.) Manon looks innocent, but there has to be a backstory. Her parents have arranged for her to enter an convent. She will soon find a way out of that!
Everyone is interested in the fresh arrival. Below, the man on the left is an unidentified passenger who can't stop talking to Manon. On the right with the big hat is Madame (Viviane Descoutures) who travels with Guillot to keep him entertained. Madame owns a fabulous brothel and gambling den at the Hotel Transylvanie in Paris, and she's always looking for talent:
Also in the crowd is Le Chevalier Des Grieux (Roberto Bolle). Des Grieux is a student. He's from a noble family with money, but he's living on an allowance from his father. The allowance does not include, alas, a line entry for "keeping up mistress":
But nothing can stop first love at first sight:
Manon escapes from the nuns by running away with Des Grieux to Paris:
Now below the young couple are living a dream in the big city. The next two shots are from the famous duet in Act 1, Scene 2, which Dupont and Bolle perform with ravishing enthusiasm:
But in just a few weeks the money for the whole semester is gone. Lescaut found Manon in Paris and explained to her how everyone can live easy as long as Guillot is satisfied. Des Grieux has no choice but go along (other than return broke to his parents). So Manon leaves with Guillot:
Everyone enjoys the social life at Hotel Transylvanie. Below Madame is having a party and lines up her best girls for inspection:
Missy, dressed in green, is the star attraction and maybe in line now to be the future Madame:
Des Grieux is brought to the party by Lescaut, who gets roaring drunk:
Manon arrives with her client:
In a long and disturbing scene of degradation, Manon dances with all the men at the party to the amusement of Guillot and distress of Des Grieux:
Roberto asks Manon to flee with him:
But the situation is hopeless for the young lovers unless Des Grieux can win a fortune. Manon charms several decks of cards and gives the honor cards to Roberto:
Roberto is such a tinderfoot. His cheating is discovered and the party breaks up mass confusion:
Guillot uses his power to have Manon arrested for prostitution and to kill Lescaut. The high social standing of Des Grieux protects him from the mayhem:
Manon is deported and turned over to the jailer (Karl Paquette) in New Orleans:
The rape of Manon. Des Grieux never stopped loving Manon and sailed with her to Louisiana. He redeems himself in part through his loyalty to her. After the rape he kills the jailer:
The couple escapes into the swamps, where Manon soon dies. What happened then to Des Grieux? That's easy. There was only one place left to go: Texas. There he took a new name, married a Mexican girl, became a cattle rancher, and had numerous descendants, who included heroes at the battle of San Jacinto, cotton tycoons, oil barons, and a Justice of the United States Supreme Court. Why not?
And here's Dupont at her last curtain call as a dancer (she moved immediately into Paris Opera Ballet management):
Massenet composed a lot of music, so Yates was able to compile a very serviceable score with many beautiful and appropriate passages. SQ is fine. The cast is superlative with the Paris regulars plus the god-like Bolle as guest. The story is simple, but the choreography includes much nuanced detail and interesting local color. The long, complicated party scene (Act 2, Tableaux 1) must have been devilishly difficult for the big cast to remember and execute. The sets and costumes are sumptuous and impressive.
I ran a Dance Wonk Worksheet on the video content. The pace is a marginally satisfactory 10 seconds per clip, but only 64% of the video clips showed whole bodies. The Garnier Palace stage is big and whole-stage shots make it hard to see much detail in this costume drama with so much use of brown tones. I also believe you need a good number of close-up shots to help tell the story effectively in video. This suggests that there were too many "no feet" shots and waist/torso views, and this left too few part-stage/whole-body shots.
There is also a disc authorship aspect of this title that baffles me. The ballet is divided into 7 tableaux. After the end of each tableaux there is a pause with a dark screen. Then the next tableaux is introduced with story text in French (and subtitles) describing what you are about to see. This is then followed by video clips showing each of the main characters and names of the performers that will appear in the upcoming tableaux. All this extra material tends to break up the flow of the story with too much repetitive information. It's almost as if you were seeing 7 different short titles instead of one ballet. I've seen now close to 450 ballet and opera HDVDs, and I've never before seen a video chopped up in such a disruptive way.
Now to a grade. This was for sure a most impressive show when seen live. The production has everything it takes to get an A+ grade. But I reduce the grade to A- for the unremarkable video content and the strange problem with the elaborate introductions to each tableaux.
Here are a couple of clips with duets of Dupont and Bolle: