This is a report on recent HDVDs involving the mangling of Mozart music in one case of malsponsorship of public domain art and in another case of reverse product placement advertisement. Volkswagen and Rubolph Buchbinder are the culprits in the malsponsorship mangle. Red Bull is the culprit in the reverse product placement. First I'll introduce the two HDVDs:
Case 1:
Mozart Piano Concertos played 2014 by Rudolf Buchbinder in Dresden. Buchbinder also conducts the Staatskapelle Dresden in:
Piano Concerto No. 20

Piano Concerto No. 21 "Elvira Madigan"

Piano Concerto No. 27
There is a bonus extra about the making of this recording in 4K. This is a 2K product---it appears there could be a 4K version later. Directed for video by Michael Beyer. Released 2016, disc has 5.0 dts-HD Master Audio sound output. Grade: F
Case 2: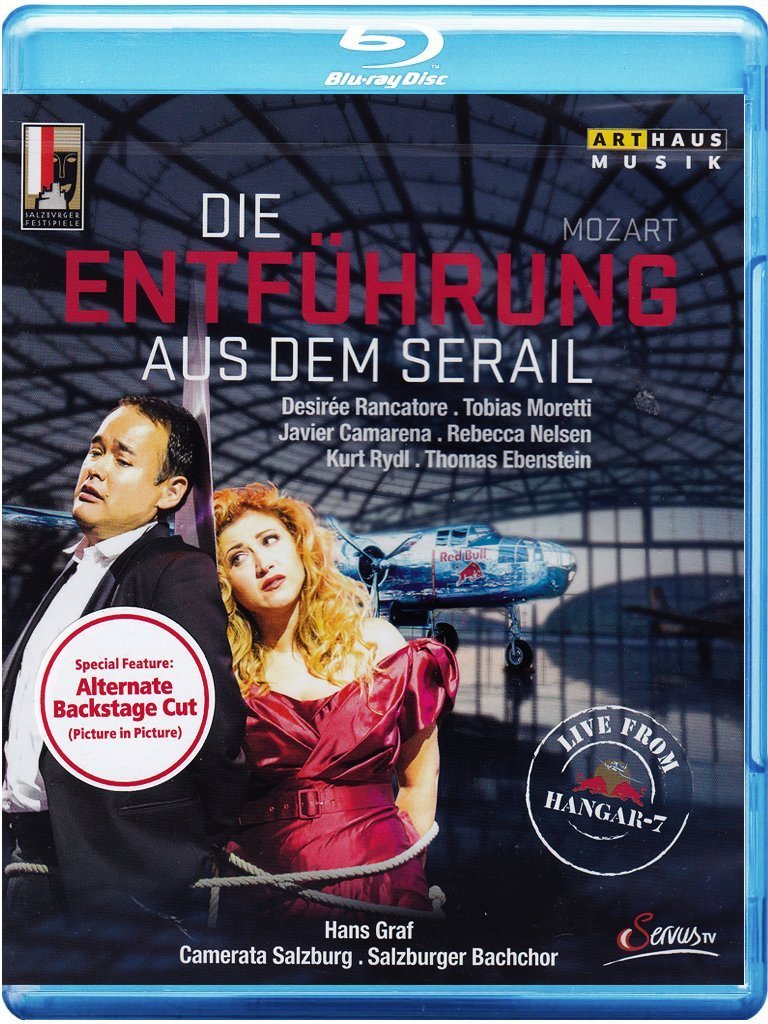 Mozart Die Entführung aus dem Serail opera to libretto by Johann Gottlieb Stephanie (from Christoph Friedrich Bretzner). Directed 2013 by Adrian Marthaler at the Salzburg Airport Hangar-7 entertainment complex (as part of the Salzburg Festival) Stars Desirée Rancatore (Konstanze), Tobias Moretti (Bassa Selim, spoken role), Javier Camarena (Belmonte), Rebecca Nelsen (Blonde), Thomas Ebenstein (Pedrillo), and Kurt Rydl (Osmin). Hans Graf conducts the Camerata Salzburg and Salzburger Bachchor (Chorus Master Alois Glaßner). Costumes by Lena Hoschek; dramatury by Ronny Dietrich; directed for TV by Felix Breisach. Released 2014, disc has 5.1 dts-HD Master Audio sound. Grade: F
Malsponsorship of Mozart Piano Concertos
Our case of malsponsorship takes place in a factory where Volkswagen makes nicer cars (Phaetons perhaps). VW, you may recall, is the company that got into a universe of trouble for making criminal cars. The cars were designed to run better and faster on the road while making pollution. But the cars were smart enough to know when then were being tested for pollution: then the cars would run clean. Well, here's a building that is actually a car manufacturing plant called "The Glassy Factory":
And the video is 4K. What does that mean? Well, you never find out, but it looks good in the introduction:
Hard to image that any car made in such a clean place could run dirty:
And now a Mozart chamber orchestra is set up inside the clean factory. What a nightmare it must have been to record sight and sound in this constrained space surrounded by so many hard, reflecting surfaces:
The rear view. It would be utter silly to go the trouble of using a factory as a studio. There has to be an audience. But why so tiny? This reminds me of the days of royalty: there might be fewer people in the audience than in the orchestra:
Its seems that hardly any lights were set up to relieve the gloom of the shut-down factory. And how do they get to call this a "4K production" on the back of the keepcase? To me the mages seem to be heading in the other direction of DVD:
A camera with insufficient depth-of-field-of-focus to span a keyboard:
This image looks distorted to me:
Hasty composition yields weird shots:
Proof that this is a Volkswagen factory:
I feel sorry (again) for Buchbinder. He has so much to offer as academician and artist. But he seem to have a knack for getting sucked into disappointing video gigs. The sound recording is just as weak as the video with the piano banging away and the orchestra sounding like mush. Here's how David Threasher puts it in his April 2016 Gramophone (page 63) review (of the CD of two of the concertos): "Buchbinder's piano is spotlit in the mix to such a degree that it dominates the sound picture. We were all taught in college that Mozart perfected the keyboard concerto as a dialogue between the 'characters' of the piano and (especially) the woodwind, in a style not dissimilar to his operatic ensembles. Here Buchbinder comes over as the pub bore, shouting his opinions down the bar and obliterating the conversation." I don't know if the sound Threasher heard on the CD is exactly the same as the dts-HD Master Audio sound on the Blu-ray (Blu-rays generally sound better to me than CDs). But the Blu-ray sound has the same pub atmosphere Threasher describes. It makes be yearn for my 35-year-old collection of all the Mozart piano concertos on various LPs.
Judge for yourself in this clip:
Why is this malsponsorship? We are used to good sponsorship. That's where a company with something to sell provides money to help pay for an excellent program of classical music for a large audience. The sponsor hopes to receive admiration, support, or good will in return. Members of the audience might even one day show gratitude by buying something from the sponsor. In the US, the most famous sponsorship of the arts was the Texaco Saturday afternoon broadcasts of operas from the Met. My mom listened to those broadcasts for decades---it was just about all the opera she heard during her life. To her, Texaco was as prestigious an institution as our church or the Supreme Court. The Texaco sell was also in part effective because it was done in a completely soft, dignified, unobtrusive, and institutional manner. And the art my mom enjoyed hearing was the best the world had to offer.
Now compare that kind of good sponsorship to what we have here. First, Mozart is not on display here. The Volkswagen factory is what we are going to notice because it's an unusual place to make cars. Second, it's obviously a bad venue for a chamber orchestra with hellish acoustics, weak lighting, cramped space for the musicians, and no room for more than an audience of props. Did this happen because VW wanted to contribute a beautiful new recording of Mozart art with high-class video to boot? The answer has to be "No" because the result is so bad. The motive was to make VW look good. And since the art that was mangled belongs to the world, everyone has standing to be irritated by the desecration. So we may justly call this "malsponsorship of public domain art." The video here doesn't help---it hurts. You are better off hearing these concertos on any decent legacy recording. Threasher might have given his CD a C or D grade. But since we can see as well as hear what's happening here, we need to give this an F.
Still, if you want to buy this Mozart title, here goes:
Reverse Product Placement Advertising in Die Entführung aus Serail
To get started, let's review what simple product placement advertising ("PPA") is. With PPA you promote your product for sale by getting the product embedded in some show that is entertaining to the public. It's been rampant at least since the time of the early silent movies. For example: If you see a new movie about computer geeks who save the world from destruction by an asteroid, you might notice that all the heroes are using Apple computers. You could safely bet that Apple Inc. arranged for that by donating computers and paying cash to have their gear worked into the plot. In fact, Apple may have financed the whole movie. When PPA is done well, the typical viewer would not even notice how he's being influenced. The more subtle the better.
But in reverse product placement advertising ("RPPA"), the product to be sold isn't embedded in the work of art. In RPPA the work of art is embedded in the product. The more blatant the better.
Now you will learn how an entire opera can be staged as a RPPA stunt. Red Bull is a soda drink. The drink gives you (usually if you are male) irresistible strength, power, and sex appeal according to a wildly successful world-wide advertising campaign bolstered by endorsements from celebs like Matt Haag, a professional video game player who was recently, at age 22, making (they say) about $1,000,000 a year winning tournaments around the world.
Red Bull is also my name for the guy who dreamed this up. It appears Red lives in Salzburg Austria, where he bought Hanger 7 (and maybe Hanger 8 also) at the main airport to be private Red Bull museum/monument. The museum is filled with all sorts of adolescent boys' wet dreams of machines that go fast and make loud noises. There is no element of historical, scientific, or artistic merit in the collection. It's all Red Bull fantasy. But I'll admit it's not boring. And Red, an advertising genius, dressed up the collection with slick interior architectural designs and added cool bars and restaurants to attract each evening all the fresh-flowing testosterone and estrogen in Central Europe. It's quite a phenomenon. In the picture below you get some idea what Hanger 7 is:
I'll not try here to explain how the opera was staged in a museum in an aircraft hanger. It didn't work on the ground and it doesn't work in the video. I'll focus on the RPPA aspect of subject title. Red Bull is, of course, more that just a soda drink. It's an image, and the image is embodied in the Hanger 7 Red Bull Monument. So now let's look at some screenshots showing how RPPA is created with a work of art (Mozart's opera) embedded in the product (Red Bull Museum).
Here are elements of the Carmarata Salzburg and the Salzburger Bachchor in the Red Bull Museum. (I think there was too little room in Hanger 7 and this is really Hanger 8, which is a quarter mile away. This show involved one hell of a WiFi setup.) You know you are inside the Red Bull Museum because of the Red Bull pontoon plane:
Meet Red Bull (Bassa Selim actually) played by actor Tobias Moretti. Tobias sneers throughout the show like a bull and wears red:
Next below is Konstanze (Desirée Rancatore ) dressed in red and lamenting her separation from her true love Belmonte. Just to her left, on the tail of a large passenger plane, you see Red Bull logos reminding you where you are. In the deep background you see, on the other side of a runway, Hanger 8 and the opera orchestra:
Belmonte (Javier Camarena) arrives and runs into Osmin (Kurt Ryhl) on the ramp. Most of the time most of the crowd is scattered around the vast hanger in total confusion about what is happening. But sometimes folks in the crowd find themselves involved in the action like the two old ladies on the left. And three more Red Bull logos in the picture remind you yet again where you are:
Osmin comes down to the floor to contend with Belmonte. Here you see the Red Bull spaceship. Well, it only got to the edge of space. But the Red Bull spacemen look pretty much like the real thing:
Belmonte keeps looking for Konstanz while passing by other Red Bull machines on Red Bull Lane:
The opera action gets spread out all over Hanger 7 and even outdoors. In the next two shots we see the Red Bull passenger liner. This is an old aircraft headed for the scrap yard long ago. But Red bought it and it made to Hanger 7 where it got its Red Bull livery. The interior sporting ancient leather looks even older than the outside. But it would be a great place for Red and his friends to have a raucous Pilots and Stewardesses party:
Next below we two more Red Bull lagos in scenes with Pedrillo (Thomas Eberstein):
And here's a shot with Blonde added in the brunette person of Rebecca Nelson:
At the end the captives are released and can flee the harem in a blue Red Bull helicopter:
I promised I would not waste your time talking about the opera production. But here's an option for you to see a clip with scenes from the show:
After watching this for 2 hours in your home theater, you will likely be thoroughly tired of all the Red BS. This doesn't depict on opera performance. It's just another Red Bull PR stunt that happens to involve an public domain work of art that can't defend itself. Red probably got a lot of laughs out of this at the expense of Salzburg citizens, the Festival, and the Arthaus Musik folks who thought this video had a chance to sell. (Could it be that Red Bull financed the HDVD and Arthaus Musik has no skin in the game other than its reputation?). Other than speculate further, all I can do is give the elite art lovers who read this website a warning: this title is grade is graded F.
But if you want to buy this Entführung, here goes again: