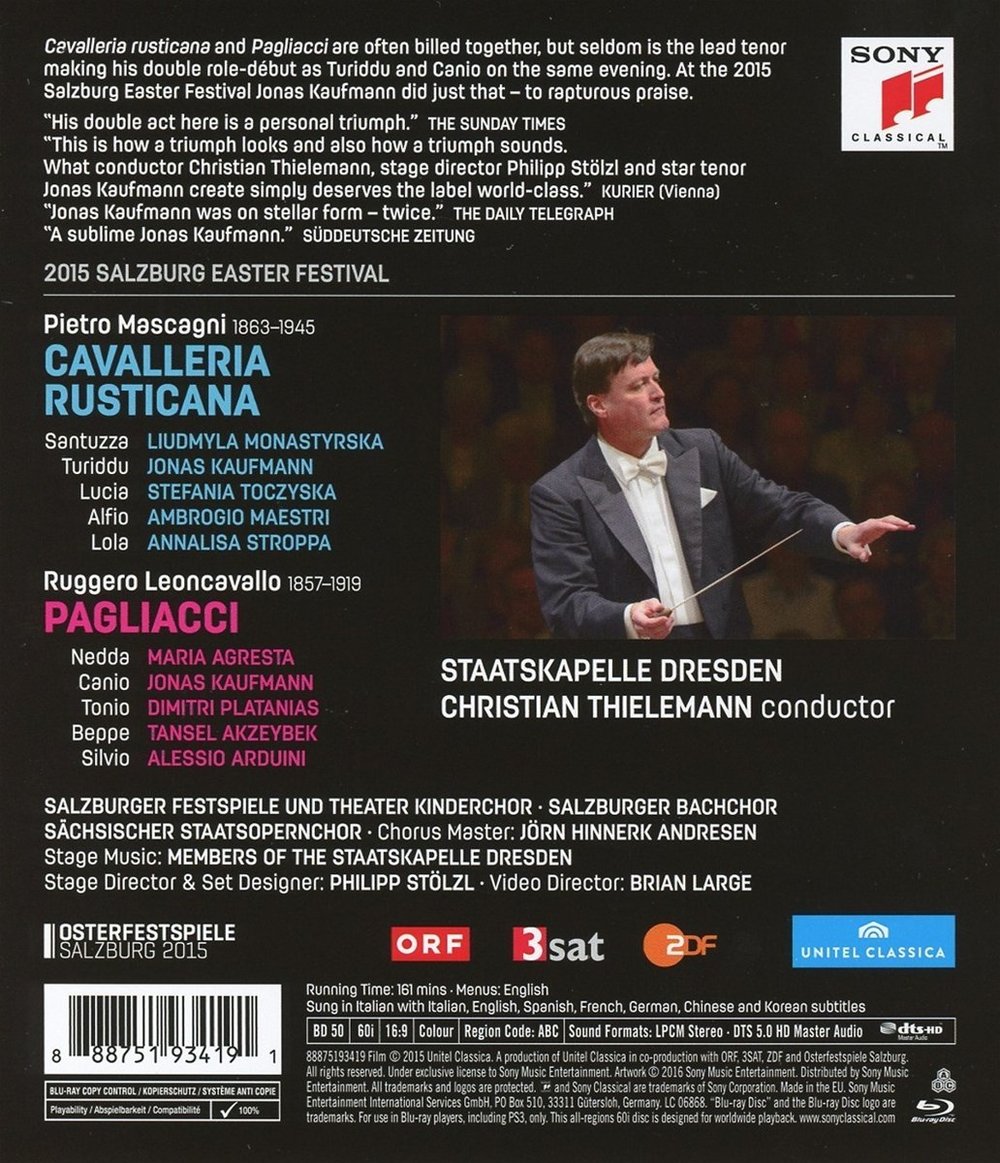 "Cav and Pag" opera double feature directed and staged 2015 by Philipp Stölzl at the Salzburg Easter Festival (Osterfestspiele).
First plays the Pietro Mascagni Cavalleria rusticana to libretto by Giovanni Targioni-Tozzeti and Guido Menasci. Stars Jonas Kaufmann (Turiddu), Liudmyla Monastyrska (Santuzza), Stefania Toczyska ( Lucia), Ambrogio Maestri (Alfio), Annalisa Stroppa (Lola), and Paul Clementi (Turiddu's Son).

Then follows the Ruggero Leoncavallo Pagliacci to libretto by the composer. Stars Jonas Kaufmann (Canio), Maria Agresta (Nedda), Dimitri Platanias (Tonio), Tansel Akzeybek (Beppe), and Alessio Arduini (Silvio).
Christian Thielemann conducts the (1) Staatskapelle Dresden and the Sächsischer Staatsopernchor (Chorus Master Jörn Hinnerk Andresen), (2) the Salzburger Bachchor (Chorus Master Alois Glassner), and (3) the Salzburger Festspiele und Theater Kinderchor (Chorus Master Wolfgang Götz). Stage music by members of the Staatskappelle Dresden. Sets designed by Philipp Stölzl; costumes by Ursula Kudrna; lighting by Heinz Ilsanker; dramatury by Jan Dvořák; director of photography Nyika Jancsó; video direction by Brian Large. Released 2016, disc has 5.0 dts-HD Master Audio sound. Grade: A-
This is the first time Kaufmann has played either Turiddu (in Cav) or Canio (in Pag). For him to sing both roles on the same night was considered a personal triumph.
Cavalleria rusticana
The Philipp Stölzl set is clever with 6 mini-stages that quickly can be changed independently of each other. First below we see all 6 in action: 4 with actors, and 2 with scenery:
Next below we see only the top tier of 3 mini-stages. The stage on the left is showing a video. Individual screens were lowered to blackout the lower tier of mini-stages:
Next below are the 3 lower mini-stages with three matching mini-sets that together form a street scene:
The live audience was forced, of course, to consider all the stages all the time. The videographer has the additional flexibility of zooming in on a single stage and giving the HT audience views like the next below:
And, as always, the videographer can get in really close - here we see Turiddu (Jonas Kaufmann) cheating on his wife by visiting his old flame Lola (Annalisa Stroppa). It was fun having her again, but already the thrill has worn off:
Turiddu has reason to be worried. Lola is now married to the gangster Alfio, played by Ambrogio Maestri seen below center. I'm so used to seeing Maestri as a silly, fat Falstaff - it's fascinating to see him here portraying a brutal criminal. Seated center is Lucia (Stefania Toczyiska), Turiddu's mother. She's paying Alfio protection money. On the right is Turiddu's wife, Santuzza (Liudmyla Monastyrska). What she hears now confirms her suspicion that Turiddu spent the night with Lola:
Monastyrska is a strong singer and actress. As "Santa" she desperately needs her husband. But she has sworn to herself to get revenge:
By now you will have noticed the unusual designs with heavy use of vertical stripes and a color palette of black, white, gray, and flesh:
Turiddu gets drunk and tries to humor Alfio. Doesn't work:
Turiddu bites Alfio's ear. "Country honor" demands that one of them must die:
Turiddu isn't a bad guy exactly. He's a weak man living in a impoverished society that offers little freedom to maneuver. Now he's in a tough spot - that's Italian verismo opera:
The original opera had a more bucolic setting - this version is urbanized. All the singing is good, and the orchestra under Thielemann plays well.
Pagliacci
Now below the cast dresses in front as the stage crew sets up for Pagliacci ("The Clowns"). Suddenly the colors change from urban drab to more garish hues:
Below we see clowns on stage (center top) and the audience watching a play (the 3 lower mini-stages) on the stage hidden to your right. The two remaining mini-stages show the circus grounds and a dressing room. I would suggest this is fairly complicated group of scenes for an audience to absorb. But, of course, the audience in Salzburg was as sophisticated as they come:
Next below a close-up of the chorus in greenish-yellow:
Nedda (Maria Agresta) is married to the Canio, the boss of the clowns. She's worried that Canio might discover that she has a lover:
Oh dear, too many men! Tonio (Dimitri Platanias), also a clown and the drum player, hits on Nedda. She runs him off with a whip. Later he will rat on her:
Nedda wants to leave the circus life and settle down with Silvio (Alessio Arduini). In the screenshot below you see more of the signature vertical lines that were so prominent in Cavalleria rusticana:
If I saw the image of Kaufmann below out of context, I might have trouble recognizing him. Here he's singing Canio's famous "laughing clown" aria:
Cannio has discovered Nedda's infidelity and is debating how to punish her and her lover. More garish colors reflect inner turmoil:
Now Canio and Nedda are on stage before the stage audience expecting to see a comedy:
You might wonder about the strange and unexpected designs used in these two operas about county life in Italy. Several critics suggest that Stölzl's design team was inspired by paintings from the German Expressionist artist Lyonel Feininger. Below are several Feininger paintings for you to compare to our screenshots:
In addition, Stölzl probably came up with his mini-stages to help him emulate the look of German Expressionist movies. The question, of course, is whether the Stölzl mise-en-scène adds to or detracts from these two operas with their utterly primitive (and similar) plots.
Print critics seem to have been carried away with the current Kaufmann fad. Sober-minded Hugo Shirley, writing in the May 2016 Gramophone (pages 91-92), gives both operas enthusiastic approval even though he continues to prefer the Del Monaco 2007 version staged at the Teatro Real in Madrid. I watched the Madrid version several times. The Madrid Cav suffers from a severe modern design that I find boring, so I prefer the Kaufmann Cav. But the Madrid Pag comes about as close, I think, to an "authentic verismo" show as we are likely to get these days. The designs are easy to watch and give the singing actors a chance to tell their story with special poignancy. So I prefer the Madird Pag. I wind up with a blended grade of A- for both titles.