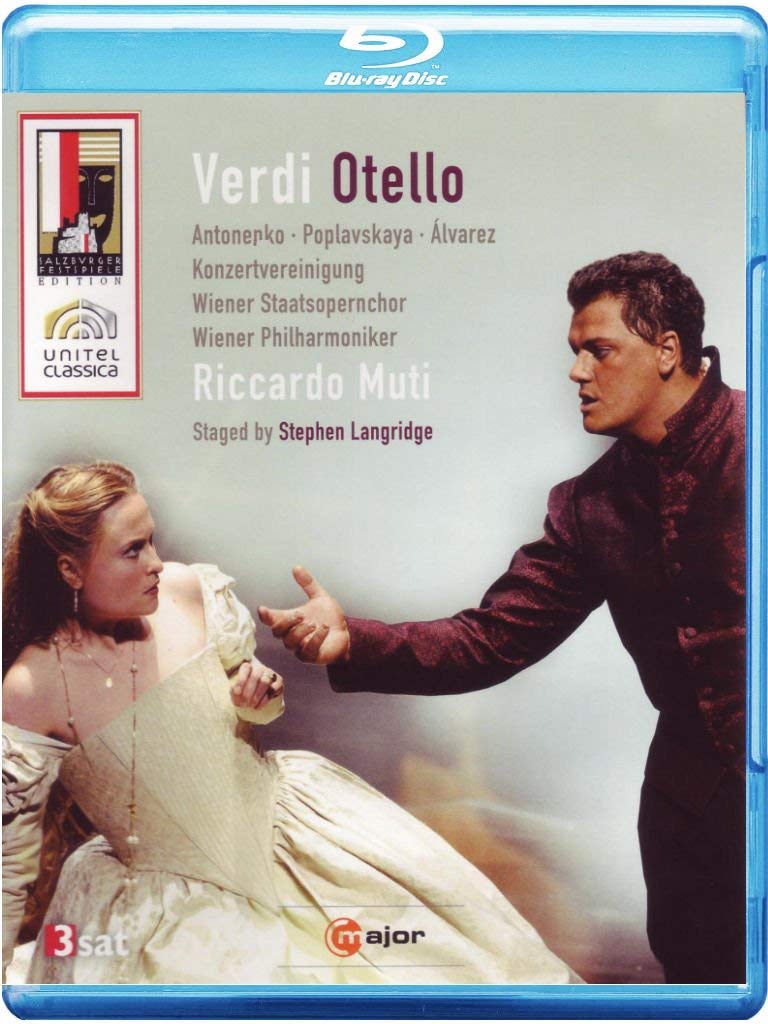 Giuseppe Verdi Otello opera to libretto by Arrigo Boito. Directed 2008 by Stephen Langridge at the Salzburg Festival. Stars Aleksandrs Antonenko (Otello), Marina Poplavskaya (Desdemona), Carlos Álvarez (Jago), Barbara Di Castri (Emilia), Stephen Costello (Cassio), Antonello Ceron (Roderigo), Mikhail Petrenko (Lodovico), Simone Del Savio (Montano), and Andrea Porta (Herald). Riccardo Muti conducts the Wiener Philharmoniker, the Konzertvereinigung Wiener Staatsopernchor (Chorus Master Thomas Lang), and the Salzburger Festspiele Kinderchor. Stage music by the Mozarteum Orchester Salzburg. Sets by George Souglides; costumes by Emma Ryott; lighting by Giuseppe Di Iorio. Directed for TV by Peter Schönhofer. Released 2010, disc has 5.1 dts-HD Master Audio sound. Grade: A
This title features fine casting of singers who sound, act, and look as they should; and the Wiener Philharmoniker plays well, of course. Excellent directing is combined with a big investment in sets and costumes. Superlative video work approaches what we expect from big-time motion-picture directors. This title gets a strong approval form David J. Baker writing in the November 2013 Opera News at page 69. Of Marina Poplavskaya as Desdemona, he states she, "demonstrates power to. . . give full measure to Desdemona's increasing terrors. Her final act is masterfully affecting."
The only thing that holds this production back from an "A+" grade would be weakness in the sound recording: either some of the singers had poor Italian diction or the the engineers had trouble balancing the voices to the orchestra.
This recording made a big impression, and there are many YouTube clips that appear to be me made from this production or from this disc. Most of them are poor quality, but here is a high-quality clip made, it appears, by a TV network that broadcasted this title: