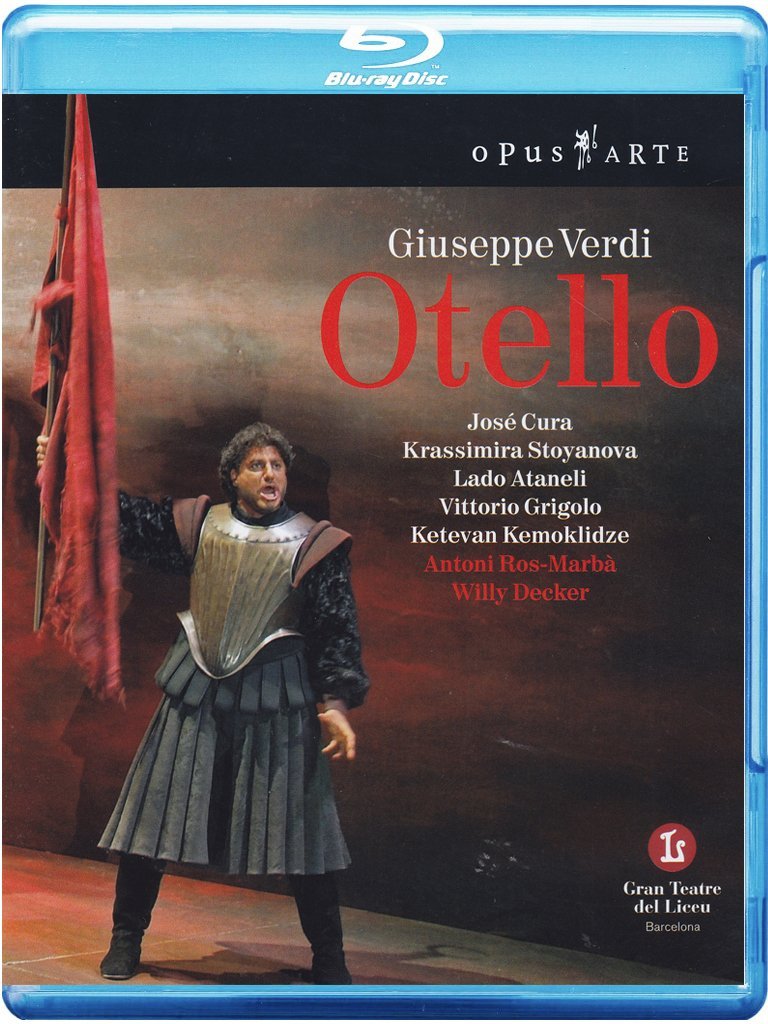 Giuseppe Verdi Otello opera to libretto by Arrigo Boito. Directed 2006 at the Barcelona Gran Teatre del Liceu with François de Carpentries and Joan Antón Rechi re-staging a production by Willy Decker. Stars José Cura (Otello), Krassimira Stoyanova (Desdemona), Lado Ataneli (Iago), Vittorio Grigolo (Cassio), Ketevan Kemoklidze (Emilia), Vicenç Esteve Madrid (Roderigo), Giorgio Giuseppini (Lodovico), Francisco Santiago (Montano), and Roberto Accurso (Herald). Antoni Ros-Marbà (assisted by Maiku Shibata) conducts the Symphony Orchestra and Chorus of the Gran Teatre del Liceu (Chorus Master José Luis Basso). Set and costumes by John Macfarlane with assistant set designer Bettina Neuhaus and assistant costume designer Silvia Hasenclever; lighting by David Finn with Andreas Grüter; choreography by Athol Farmer. Directed for TV by Angel Luis Lamirez; TV Producer was Angela Alvarez Rila. Released 2009, disc has has 5.0 PCM sound. Grade: B
We watched this one time and felt that it is a "B" title. Print critics have been lukewarm to this production also.
We can't find a good YT clip of this older title.