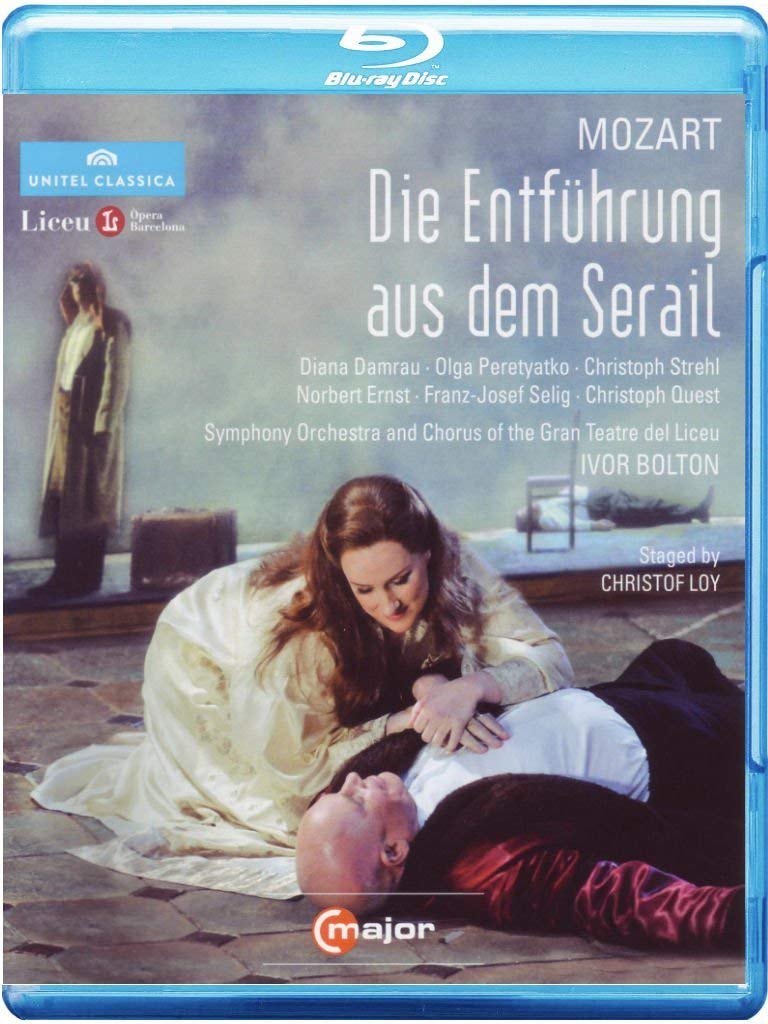 Mozart Die Entführung aus dem Serail opera to libretto by Johann Gottlieb Stephanie (from Christoph Friedrich Bretzner). Directed 2010 by Christof Loy at the Gran Teatre del Liceu. Stars Diana Damrau, Olga Peretyatko, Christoph Strehl, Norbert Ernst, Franz-Josef Selig, and Christoph Quest (spoken role). Ivor Bolton conducts the Symphony Orchestra (Concert Master Kai Gleusteen) and Chorus of the Gran Teatre del Liceu (Chorus Master José Luis Basso). Set and costume design by Herbert Murauer; lighting design by Olaf Winter; video direction by Pietro d'Agostino. Released 2012, disc has 5.1 dts-HD Master Audio sound. Grade: A+
This is a Singspiel, a German opera form that usually has both moral and comic elements and uses spoken dialogue between arias. Here director Loy goes for a serious approach with comic relief---no silliness and just a whiff of slapstick. He also includes, it appears, all the music and spoken parts. This makes the opera more than 3 hours long, but don't fret. This work is good enough to keep your attention every minute; and to fully understand this form of opera, it's important to get all the spoken information.
Let's continue this mini-review with some screenshots and later we will sum up. Belmonte, a Spanish nobleman was engaged to Konstanze. She, together with her English servant, Blonde, and a servant of Belmonte named Pedrillo, were captured by pirates and sold as slaves to Pasha Bassa Selim, who resides in Turkey. Belmonte has located the three slaves and has arrived to free them. Belmonte is played by Christoph Strehl, who shows his remarkable comic skill in another Mozart opera we have in HDVD, the La finta giardiniera. (In that opera Strehl's character is named Belfiore.):
Now we meet Osmin (Franz-Josef Selig), overseer of the palace and harem of Pasha Selim. He has advice on handling women: "To keep that new girl faithful to thee, guard her well under lock and key.":
Osmin also loathes Westerners, such as Pedrillo (Norbert Ernst) here, for "all your malice, all your sins; all your ruses, and false make amends." [Caution: sloppy translations.]
Pasha Selim (Christoph Quest) is a turncoat Christian. He enjoys the privileges of an Ottoman ruler, but prefers to treat his women with compassion:
Selim is in love with Konstanze (Diana Damrau). But she is faithful to Belmonte. She is grateful to Selim for treating her well, but she rejects his offers of love, "Don't try to demand a heart that will forever be denied you.":
In the meantime, Osmin is intrigued with the servant Blonde (Olga Peretyatko), who has her own ideas about women's rights:
Some high-stakes table talk with a provocative question:
In desperation, Selim threatens a Turkish specially of the house: "Martern aller Arten" or "every torture there is." This unleashes one of Mozart's most famous arias:
"Every torture there is may await me. But rather than betray Belmonte . . ":
When she starts burning herself, Selim intervenes:
So the dinner ends with Selim more frustrated than ever. But events will soon come to a head in a way Selim doesn't anticipate. A real plot is afoot: at midnight Belmonte will appear at Konstanze's window with a ladder and the 4 will escape:
Even though the plotters give Osmin a sleeping potion, he wakes up just in time to stop the elopement. Pasha Selim orders that Belmont be executed. But Konstanze begs Selim: "Let me die. I die happy if you will spare his life.":
It then comes out that atrocious actions of Belmante's own father in Spain were behind Selim's decision long ago to go over to the Turks. But Selim decides to not take revenge, saying that "I abhor your father so much, I will never follow in his footsteps and do to you as he would have done to me."
When Osmin realizes that Selim is going to release the 4 (including Blonde) he can't contain himself any more. He demands the 4 "be beheaded, then hanged, and pierced with hot spikes / then burned, bound and dunked, and then skinned alive."
But Selim lets everyone go, and they all (except Osmin, who sits facing the rear of the stage) sing a wonderful finale stating that anyone who fails to praise Pasha Selim will forever be considered a jerk.
All the singers are good, and all of them can act. They dig deep to give us the morals expressed in the libretto as well as the humour. Diana Damrau, with total control of her voice and huge acting skill, is overwhelming in her double-barrel arias "Traurigkeit ward mir zum Lose" and "Martern aller Arten." This is among the best soprano renditions we have in HDVD. Selig's voice is stronger and clearer than any other bass I can remember. There is little humorous about Selig's appearance, but he has the acting skill to be perfect in the comic role of Osmin as directed by Loy. Christoph Quest, a famous movie actor in Europe, brings tremendous gravitas to the role of the old general.
The orchestra under Bolton plays with verve. The recording is sweet and vivid. The orchestra is perfectly balanced with the singers. Overall, the music is about as well performed and recorded as standard Blu-ray sound can be.
The video is extremely good with excellent dramatic lighting. The sets and costumes are simple, but elegant when necessary. There is a black background for much of the opera. This approach reminds me of our recent Anna Bolena disc and the older Don Pasquale from the Ravenna Festival. On my new plasma display, I see again what all the TV talk about "deep black" is getting at. The black background gives the illuminated images a jewel-like appearance that would not have been there with my LCD set.
Finally, reviewing this disc brought home to me something I had not clearly thought of before: how admirable Mozart was (apart from his musical talent) for his love of humanity---a quality that seems to have illuminated and guided him throughout his life. It seems he sees the best in everyone and every situation. He always seeks, whenever harm has been done, a path for forgiveness and reconciliation. This may be why Mozart loved the theater so much. How else can a musician and composer so clearly express his love for humanity than through opera? Probably I read about this other places; but now, following my study of this Entführung, I see it for myself.
Richard Fairman in the May 2012 issue of Gramophone knocked both the serious tone of Lay's direction and the simplicity of the design. Fairman would prefer more "wit and life." But I think Lay's sober mise-en-scene reduces distractions and lets the viewer focus on the story and the music. So I'm content to give an A+ to this title. Maybe someone else can figure out how to be effective with this opera using lavish sets and costumes.