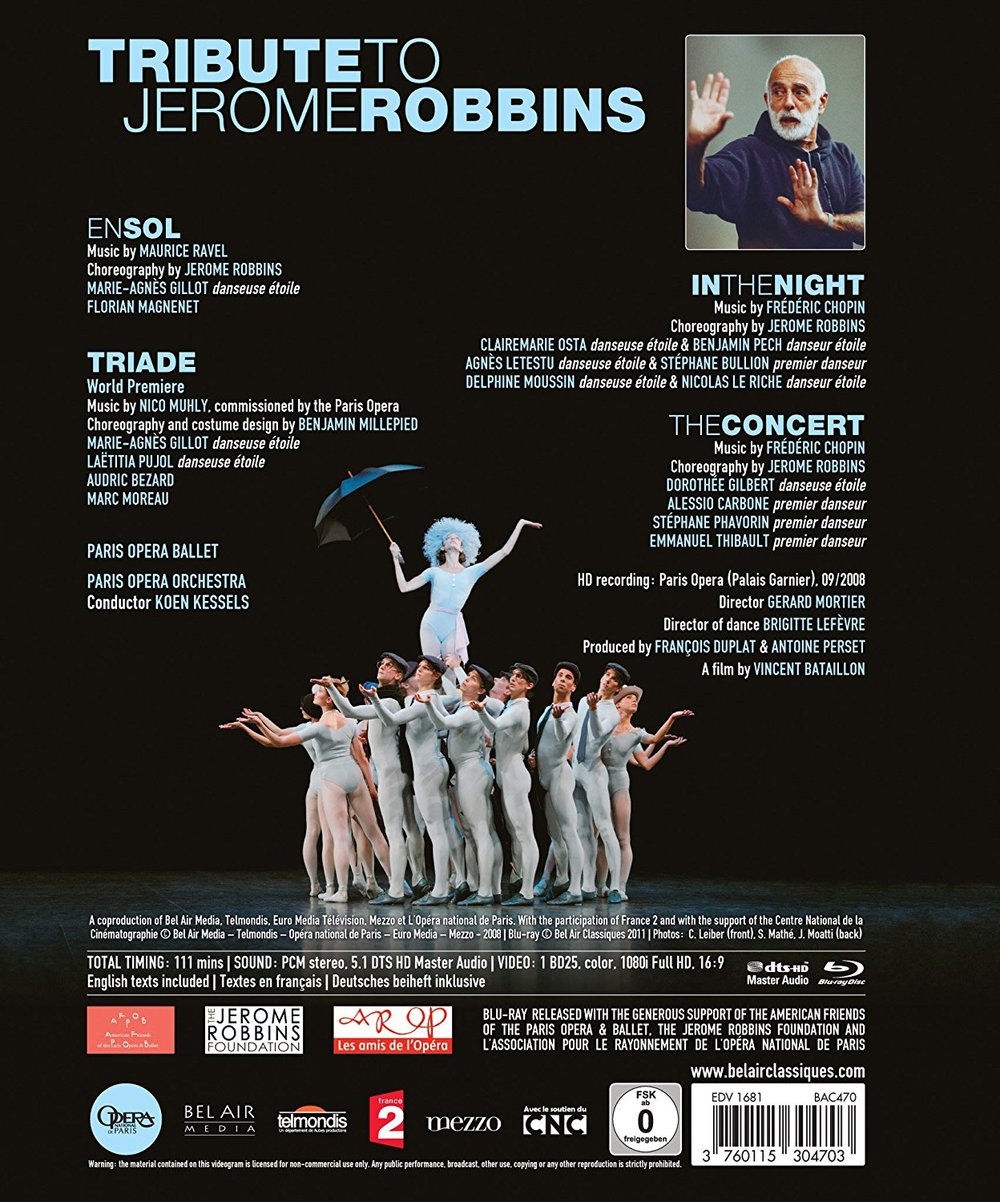 Tribute to Jerome Robbins compilation of three single-act ballet pieces by Robbins and the world premiere of a single-act ballet by Benjamin Millepied. Performed 2008 at the Paris Opera (Palais Garnier) as a tribute to Robbins, who died in 1998. Works presented (in disc order) are:
En Sol by Robbins (23 minutes). Music is Maurice Ravel Piano Concerto in G major. Stars Marie-Agnès Gillot & Florian Magnenet. Elena Bonnay plays piano. Choreography overseen by Jean-Pierre Frohlich; sets and costumes by Erté; lighting by Jennifer Tipton.
Triade choreographed by Benjamin Milleipied (21 minutes). Especially commissioned music for piano and two trombones by Nico Muhly. Stars Marie-Agnès Gillot, Laëtitia Pujol, Audric Bezard, and Marc Moreau. Frédéric Lagnau plays piano. Trombones played by Bruno Flahou and Jean Raffard. Costumes by Benjamin Millepied; lighting by Patrice Besombes.
In the Night by Robbins (24 minutes). Music by Frédéric Chopin. Stars dancers Clairemarie Osta & Benjamin Pech, Agnès Letestu & Stéphane Bullion, as well as Delphine Moussin & Nicolas Le Riche. Ryoko Hisayma plays piano. Choreography overseen by Jean-Pierre Frohlich & Christine Redpath; costumes by Antony Dowell; lighting by Jennifer Tipton.
The Concert by Robbins (29 minutes). Music by Frédéric Chopin. Stars dancers Dorothée Gilbert, Stéphane Phavorin, Alessio Carbone, and Emmanuel Thibault. Vessela Pelovska plays piano under adverse circumstances. Choreography overseen by Jean-Pierre Frohlich; arrangements and orchestration by Clare Grundman; sets after Saul Steinberg; costumes by Irene Sharaff; lighting by Jennifer Tipton.
Koen Kessels conducts the Paris Opera Orchestra. This project was realized while Gerard Mortier was Director of the Paris Opera. Produced by François Duplat, Antoine Perset, Denis Morlière, and Emma Enjalbert; directed for TV by Vincent Bataillon. Sound recorded with 48kHz/16-bit sampling specs (between CD and typical Blu-ray sound.) Released 2011, disc has 5.1 dts-HD Master Audio sound. Grade: A
En Sol
En Sol celebrates innocent fun and languid romance at the beach it a manner reminiscent of the musical productions for which Robbins was famous (in addition to his formal ballet work). Fans of this website likely will be very familiar with the En Sol music because we already have in HDVD both a Hélène Grimaud and a Martha Argerich rendition of the Ravel Piano Concerto in G major. 12 members of the corps populate the beach while Marie-Agnès Gillot and Florian Magnenet fall in love. You see all 12 members of the corps in their colorful costumes in the first screenshot below:
Marie-Agnès Gillot and Florian Magnenet are, of course, front and center in the shot above. You also see them on the front-cover art work for the disc pictured above.
This video was made at the dawn of the age of HDVD in 2008. But already TV director Vincent Bataillon knew (maybe better than anyone else in the industry) how to take maximum advantage of the power of the new HD cameras (even though this title was also to be published in DVD).
I ran a Ballet Work Worksheet on En Sol. I measured the dance time as 23:33. I counted 34 "camera clips" (where a video clip stops and is followed by a different new video clip) for a pace of 42 seconds per clip. I also figured there were 40 "brain clips" (where the camera keeps running but there is a distinct change in range caused by zooming in or out). With the brain-clip count, the pace is 35 clips per second. The Gillot/Magnenet duet is portrayed in a single clip of 9 minutes and 43 seconds---a video segment that's magnificent in every way! 97% of the clips show the whole bodies of the dancers. There is only 1 clip (a torso shot) that doesn't show whole bodies of the dancers.
In the Night
With In the Night, Robbins evokes through dance the same feelings of mystery and longing achieved by Chopin in the music of his nocturnes. Using three sets of dancers, there are three duet scenes (no solos), each quite different and equally wonderful. There's a brief coda to show you all the splendor at once.
Clairemarie Osta and Benjamin Pech:
Agnès Letestu and Stéphane Bullion, stars of our ineffable HDVD ballet La Dame aux camélias. Agnès has a lot of confidence in the strength and skill of Stéphane:
Finally, Delphine Moussin and Nicolas Le Riche:
See my Ballet Wonk Worksheet for In the Night. Following the "brain clip" approach, there are 28 clips in about 24 minutes for an average clip of 51 seconds. If you count only the 10 actual "camera clips", then each clip runs 148 seconds (over 2 minutes) on average! This is truly a magisterially slow video pace!
The Concert
The Concert is a comedy, set to famous Chopin music, about a piano gig that goes wrong. Most of it is at slapstick level, but I suspect it harbors insider jokes. It starts with an outrageous misorchestration (as a military march) of the most sacred Chopin piece, the "Heroic" Polonaise No. 6 in A Flat. (Robbins' father emigrated from Poland to the U.S. in 1904 as Harry Rabinowitz, so Jerome could get away with this.) After the pianist sits down, she makes a funny scene cleaning the keyboard:
Once the concert gets going, things go downhill fast. Dancers retire young like soldiers and cops. Some face unemployment, but Dorothée Gilbert on retirement can go straight into physical comedy (she would make a great girlfriend for Mr. Beam). Here Gilbert goes to sleep and loses her seat:
Other zany characters attend the concert; one of them, the shy student (Emmanuel Thibault) decks Gilbert in an effort to restore order:
Eventually six dancing girls arrive. They proceed to make every mistake ever seen in rehearsal or for real, all showing how dangerous life is for the women in the corps:
So what kind of video does Bataillon give us with this Keystone Cops-style show? Well, see my Ballet Wonk Worksheet. Even with the need to make quick changes in the video to match the madcap action, Bataillon comes up with 18 seconds per clip, and 69% of the images show are full-body!
Triade
The Robbins works discussed above were written decades ago. Triade by Benjamin Millepied dates to 2008. The word "triade" means "triad" in English, which in turn must have something to do with "3." I think it depicts negotiations on the street between two girls and two guys as to who is going to wind up with whom, at least for a night. I'm guessing each girl likes both guys (that's 3) and each guy likes both girls. You get to watch and you decide what should happen. The music is terrific with an ethereal piano score receiving street cred from two trombones. The dance style is similar to what we see in Wayne McGregor works like Chroma, Infra, and Limen, only with more links to the classical past. It's always amazing to me to see dancers like Marie-Agnès Gillot and Laëtitia Pujol, who are among the very best classical ballet stars in the world, do all this cutting-edge modern dance as well.
Does that hurt?
Did you forget something?
Piano by Frédéric Lagnau. Bones by Bruno Flahou and Jean Raffard:
Now take a peek at the Triade Wonk Worksheet. This piece is full of agitation, emotional flare-ups, and fast moves. Many TV directors would go here for DVD-like close-ups and lot of short clips. True, Batallion speeds up his pace a bit and has 21% torso shots. But with a pace of 27 seconds per clip, his work is still 4 times slower than say, the typical video from John Neumeier and Thomas Grimm. And Bataillon still gets whole bodies in 72% of his shots.
Let's sum up. I haven't said a word about the dancing. It almost goes without saying that anything the Paris Opera Ballet does is going to be full of wonderful work by some of the best dancers in the world. With this program you get a lot of variety, with 2 elegant traditional pieces, one nervy modern work, and a rare dance comedy. It's something you can show to visitors who are not ready to watch a 2 hour + version of Sleeping Beauty.
This video has decent PQ in view of the low light available in several numbers; but today it looks a bit soft. SQ is also about par for the course in 2008. But it's the thoughtful video content here that distinguishes this video from most of the other ballet HDVDs that would come out in the years to come. This and Bataillon's later films put Bataillon in a class by himself for producing timeless video content for HDVDs. I didn't realize this when I originally gave this title a B, but now I move the grade up to an A. (Sorry, the weak sound and soft PQ keep this from getting an A+.) I'm also going to add this to our Best Ballet list.