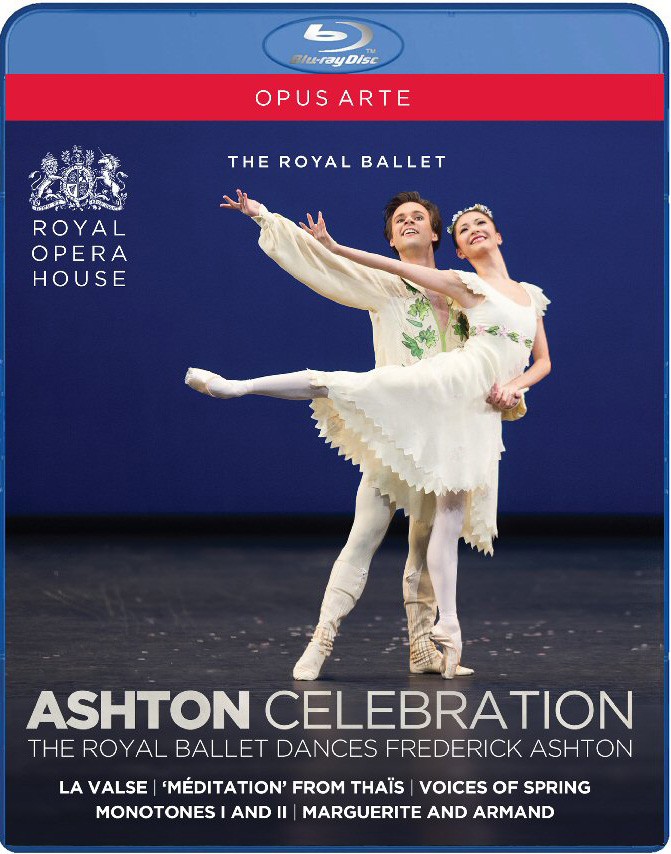 Ashton Celebration. Frederick Ashton was the founding choreographer of the Royal Ballet. The program on this disc was performed in February 2013 to commemorate the 25th anniversary of his death:
La Valse by Ravel. Stars Hikaru Kobayashi, Ryoichi Hirano, Samantha Raine, Bennet Gartside, Helen Crawford, and Brian Maloney. Designs by André Levasseur; lighting by John B. Read; staging by Christopher Carr.

Meditation from Thaïs by Jules Massenet. Performed by Leanne Benjamin and Valeri Hristov. Costumes by Anthony Dowell; lighting by John B. Read; solo violin by Vasko Vassilev.

Voices of Spring by Johann Strauss II. Performed by Yuhui Choe and Alexander Campbell. Costumes by Julia Trevelyan Oman; lighting by John B. Read.

Monotones I and II to music by Erik Satie. Performed by Emma Maguire, Akane Takada, Dawid Trzensimiech, Marianela Nuñez, Nehemiah Kish, and Edward Watson. Orchestration by Claude Dubussy, Roland-Manuel, and John Lanchbery. Designs by Frederick Ashton; lighting by John B. Read; staging by Lynn Wallis.

Marguerite and Armand to music of Franz Liszt. Performed by Tamara Rojo, Sergei Polunin, Christopher Saunders, Gary Avis, Sander Blommaert, Nicol Edmonds, Bennet Gartside, Ryoichi Hirano, Valeri Hristov, Kenta Kura, Anhrej Uspenski, Thomas Whitehead, and Jacqueline Clark. Orchestration by Dudley Simpson; designs by Cecil Beaton; lighting by lighting by John B. Read; staging by Grant Coyle; solo piano by Robert Clark.
This was the last performance with the Royal Ballet of Tamara Rojo, who retired early to become General Director (and dancer) at the English National Ballet. Leanne Benjamin retired this summer; this could well be the last recording she made with the Royal Ballet.
Emmanuel Plasson conducts the Orchestra of the Royal Opera House (Concert Master Vasko Vassilev). Directed for screen by Margaret Williams. Released 2013, disc has 5.1 dts-HD Master Audio sound. Grade: A
They say Ashton's trademarks were graceful dancing based on his mastery of footwork. All selections on this disc clearly bear these marks. Of course, the Royal Ballet has performed works by many other choreographers in various styles. But as I watched this Ashton Celebration, I thought of Lauren Cuthbertson dancing Alice in Alice's Adventures in Wonderland as choreographed by Christoper Wheeldon. This was the most recent new production by the Royal Opera. It seems to me seems that Wheeldon presents his Alice squarely in the Ashton tradition.
(If you wanted to see other works choreographed by Ashton, we have 6 featured on this website: La fille mal gardée, Ondine, The Sleeping Beauty, Swan Lake, Sylvia, and Tales of Beatrix Potter.)
The Ashton Celebration disc is full of pleasure with no irksome challenges or issues to discuss. The music, all splendidly performed live by the Royal Opera House Orchestra, is well recorded. I was especially impressed with the wonderful orchestrations of the Erik Satie music, a composer I've ignored all my life as too boring.
The video recording of the dancing is just OK with soft resolution and problems caused by low lighting. I will complain about a few minutes of atrocious video of the orchestra during breaks in the dancing. Most of the shots were inane instruments-only views. There was never a clear shot of a single musician, not even of Robert Clark playing solo piano. Here is perhaps the best view of the orchestra shots---a sad, out-of-focus mess:
Here's the worst shot of the musicians---what on earth got between the camera and keyboard? Why didn't this get edited out?
Well, the weak video of the orchestra doesn't really hurt the presentation of the dancing. But would you buy a new Mercedes with a dent in a fender?
Let's move on to some screenshots of the dancing. These shots don't do full justice to the disc: in Ashton's choreography, there are few of those resting moments that give opportunity for good screenshots. Let's start with La Valse. The first two shots attempt to show the corps filling up the stage. The presentation here is glamorous without being ostentatious---it is bound to be a big hit with any woman in your audience:
Here are the 3 lead couples. From left to right we see Brian Malony (almost), Helen Crawford, Ryoichi Hirano, Hikaru Kobayashi, Bennet Gartside, and Samantha Raine:
Here we get a better look at the corps couples:
The duet to the `Meditation` from Thaïs is short, exotic, and dripping in sexual tension. In the first image, Leanne Benjamin as Thaïs throws herself at her lover (Valeri Hristov) by jumping both legs into his arms:
Hristov is still carrying Leanne. Here he performs about 20 seconds of striking gyrations before she slides off to the floor:
In the next segment, Yuhui Choe and Alexander Campbell dance Voices of Spring to a Strauss waltz--another sure woman pleaser:
Both the Monotones dances gave me a surprise. I assumed that dancing in funny costumes to Satie music would be mechanical and boring. But I found this totally abstract dancing to be charming and absorbing. All the moves are made in slow motion with no facial expressions allowed. To sustain the charm of the piece, every move of each dancer must perfectly match or balance with the moves of the other dancers. This is, the dancers say, one of the hardest Ashton pieces to perform. Here we have Emma Maguire, Akane Takada, and Dawid Trzensimiech in green:
Here we have Edward Watson, Marianela Nuñez, and Nehemiah Kish in silver:
The final segment is Ashton's version of the Traviata story. He did a fine job of shrinking this down to 38 minutes, and critics seemed to like Rojo's interpretation. But having watched the Neumeier La Dame aux camélias many times, Ashton's approach is too skimpy for me to develop much enthusiasm. Well, here's Rojo as Marguerite:
The legs you see below belong to Sergei Polunin playing Armand. Tamara's legs are hidden by her red skirt! It's neat to see this image develop as Tamara tucks her legs out of sight:
This is the famous ballroom scene where Armand throws cash at Marguerite:
The Ashton Celebration turned out to be an event in itself because of the retirement of Tamara Rojo. Her fans threw tons of flowers, and you can see some of them in these shots of her curtain calls:
Here's a clip of the Marguerite and Armand pas de deux: